Israel-US security ties to remain strong despite claims of Trump-Russia leaks – defense minister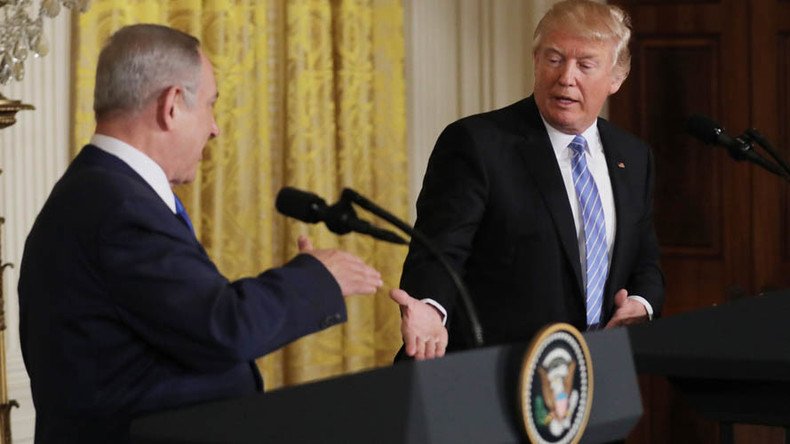 Israel says its "deep, significant security relationship" with the US will remain unaffected amid claims that Donald Trump shared classified information with Russia, which he allegedly received from Tel Aviv.
"The security relationship between Israel & our greatest ally the United States, is deep, significant, and unprecedented in volume," Israeli Defense Minister Avigdor Lieberman tweeted on Wednesday.
"This relationship with the US is unprecedented in its contribution to our strength. This is how it has been and how it will continue to be," he wrote.
Trump has been accused of sharing highly classified information on an Islamic State (IS, formerly ISIS/ISIL) plot with Russian Foreign Minister Sergey Lavrov and Russian Ambassador to the US Sergey Kislyak. It is alleged that the intelligence was given to Washington by Israel, though Tel Aviv has yet to confirm that claim.
Lieberman isn't the only Israeli figure attempting to downplay the situation, while US media simultaneously continue their finger-pointing at Trump and Russia.
Israeli Intelligence Minister Yisrael Katz also said he has complete confidence in the US intelligence community.
"Intelligence cooperation between Israel and the United States regarding the threats posed by Iran and its proxies and ISIS and its affiliates will continue and deepen," he said, as quoted by AP.
Avi Dichter, a lawmaker in Prime Minister Benjamin Netanyahu's Likud party and a former head of the Shin Bet security service, said that even if the allegations were true, the ramifications would not be as severe as the mainstream media are portraying.
"The current president has been serving for slightly over 100 days. This is not enough time to accumulate experience that is as bad as it is described by the media," he told Israel's Army Radio.
"I am familiar with a few other cases over the years in other countries where they made use of materials — perhaps even in a more scandalous manner than was described by the media in this case."
Amnon Sofrin, a former head of the Mossad spy agency's intelligence directorate, agreed with Dichter.
"It may cause small damage or a local one but not a disaster," he said. "None of us in the intelligence community likes this event, but it can be put aside."
Trump spoke to Netanyahu over the phone for 20 minutes on Tuesday, shortly after news reports claimed the so-called classified information came from Israel. However, the prime minister's spokesman, David Keyes, said the only topic discussed was Trump's scheduled visit to Israel next week.
"There was a call yesterday between the president and prime minister for about 20 minutes," Keyes said on Wednesday. "The only topic discussed was the upcoming visit."
America's other long-time ally, Britain, also says the situation will not affect intelligence sharing between the two countries.
British Prime Minister Theresa May said earlier on Wednesday that any matters discussed with Trump and "anybody that he has in the White House" is only a matter for the president.
Both the White House and the Kremlin deny that sensitive information was shared during the recent meeting between Trump and Russian Foreign Minister Sergey Lavrov.
Earlier on Wednesday, Russian President Vladimir Putin said he is ready to provide records of the meeting to prove that no secrets were leaked, and to dispel the "political schizophrenia" around the allegations.
On Tuesday, Trump said he shared "facts" with Russia during the meeting, stressing that he had the "absolute right" to do so.
The US and Israel have a strict confidentiality agreement regarding intelligence-sharing.
Meanwhile, Russia's critics have claimed that Moscow could share the so-called sensitive information with Iran and Syria, both of which are bitter enemies of Israel.
You can share this story on social media: