Trump-Lavrov leak claims won't affect UK intelligence-sharing with US – PM Theresa May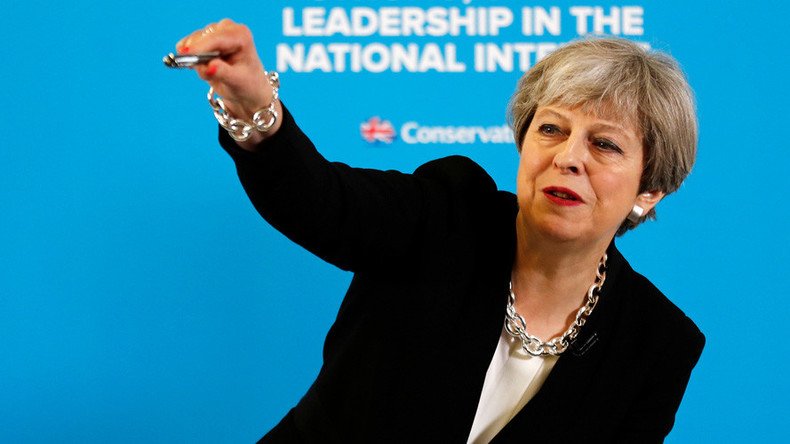 UK Prime Minister Theresa May has said that Britain will further work and share intelligence data with the United States.
"We continue to work with the United States and continue to share intelligence with the United , as we do with others around the world because we are all working together to deal with the threats that we face," May told reporters on Wednesday, as cited by Reuters.
She added that the issues discussed by the US leader "with anybody that he has in the White House is a matter for President Trump."
The prime minister said that she has confidence in the bilateral relationship, adding that their cooperation provides better protection from security threats.
"We continue to work together and we have confidence in that relationship between us and the United States, that it helps to keep us all safer," May said.
Her statement comes after US President Donald Trump was accused of sharing highly classified data during his meeting with Russian Foreign Minister Sergey Lavrov last week. The Russian Foreign Ministry has dismissed the claims.
Russian President Vladimir Putin also slammed the reports on revelations during a news conference following a meeting with the Italian prime minister Wednesday, calling them "political schizophrenia."
"If the US administration deems it possible, we are ready to provide the Senate and Congress with the transcript of the conversation between Lavrov and Trump," he stated.
READ MORE: Putin ready to provide records of Trump-Lavrov talks to prove no secrets were leaked
The accusations appeared after a Washington Post article cited unnamed officials, who claimed that Trump "revealed highly classified information" that could jeopardize "a critical source of intelligence on Islamic State [IS, formerly ISIS/ISlL]."
Meanwhile, Trump said that he had the right to share "facts pertaining to terrorism and airline flight safety" during his meeting with Russian officials in the White House last week.
As President I wanted to share with Russia (at an openly scheduled W.H. meeting) which I have the absolute right to do, facts pertaining....

— Donald J. Trump (@realDonaldTrump) May 16, 2017
...to terrorism and airline flight safety. Humanitarian reasons, plus I want Russia to greatly step up their fight against ISIS & terrorism.

— Donald J. Trump (@realDonaldTrump) May 16, 2017
READ NORE: Trump says he had 'absolute right' to share data on 'flight safety & terrorism' with Russia
Following the report, the US leader was called "a security risk to the Western world" by a German lawmaker and the head of the parliament intelligence oversight committee, Burkhard Lischka.
You can share this story on social media: