Turkey slams US for 'aggressive actions' against Erdogan's bodyguards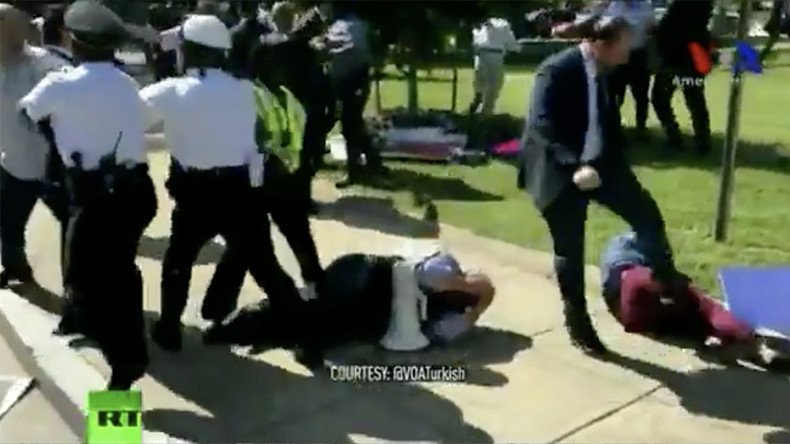 The Turkish government has summoned the US ambassador to protest what it said were "aggressive and unprofessional actions" by police and diplomatic security service towards President Recep Erdogan's bodyguards during a street brawl in Washington, DC.
US Ambassador John Bass was given a "written and verbal protest" against actions that the Turkish Foreign Ministry said were "contrary to diplomatic rules and practices," according to Reuters.
Ankara has requested "a full investigation of this diplomatic incident."
Lapses in security were caused "by the inability of US authorities to take sufficient precautions at every stage of the official program," the foreign ministry said, adding that the incidents would not overshadow what was otherwise a "very successful" visit.
The fight broke out at a protest outside the Turkish ambassador's residence in Washington, DC last Tuesday, after Erdogan met with President Donald Trump.
Video from the scene shows Erdogan's bodyguards hitting and kicking protesters who had gathered outside the residence, and getting into scuffles with police and Diplomatic Security Service (DSS) personnel.
Police said 11 people were injured, including a Metropolitan Washington police officer. Two people were arrested for assault, one of them a protester.
Turkey has blamed the violence on demonstrators, accusing them of links to the Kurdistan Workers Party (PKK) – which both Ankara and the US consider a terrorist organization.
Washington's police chief described the incident as a "brutal attack" on peaceful protesters, while Senator John McCain (R-Arizona), said the US should throw the Turkish ambassador "the hell out of the United States of America," arguing there was no excuse for the "thuggish" behavior.
Turkey's latest move comes after US Secretary of State Rex Tillerson said that State Department officials had told the Turkish ambassador the clash was "simply unacceptable."
Tillerson told Fox News Sunday that an investigation is underway and that he would allow it to finish before making any decision about a more formal response.
Tensions are running high between the US and Turkey after the Trump administration announced plans to arm Kurdish militias in Syria with small arms, machine guns, armored vehicles and other military hardware. Washington sees the militia as best suited for an eventual siege of Raqqa, the Syrian stronghold of Islamic State (formerly ISIS/ISIL).
Turkey considers the People's Protection Units (YPG) in Syria an extension of the PKK, which has waged a 30-year insurgency against the Turkish state in pursuit of an independent Kurdistan.
The US has also designated the PKK as a terrorist organization, but rejects the idea that Kurdish forces in Syria or Iraq should be treated in the same fashion.
Turkish officials said on Saturday they had stepped up training of the Free Syrian Army, which has fought alongside Turkish forces against IS in the north of Syria, according to AP.
Turkish special forces are training group in using weapons – including mortars, rocket launchers and machine guns – the Andolu news agency said. Turkey has said it will battle Kurdish militants in Syria and Iraq if pushed.
Last week, Turkey's Foreign Minister Mevlut Cavusoglu called for the replacement of the Brett McGurk, the US presidential envoy to the international coalition against IS.
You can share this story on social media: