Man behind Times Square rampage claims he tried to get mental help & 'can't remember' attack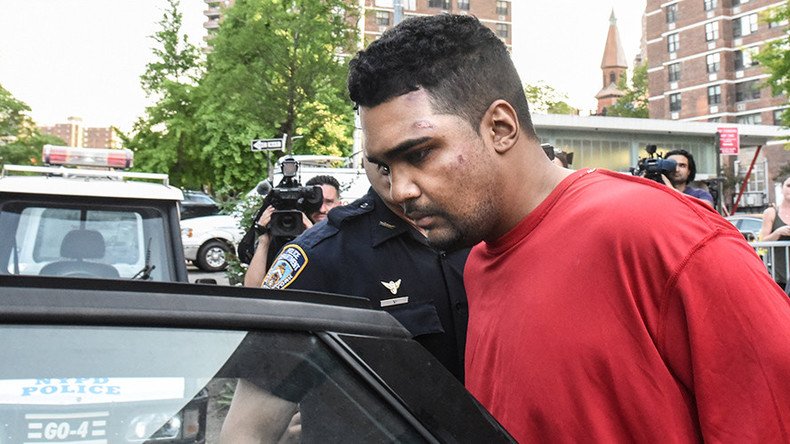 The 26-year-old Navy veteran who went on a drug-fueled car rampage in New York's Times Square, killing one woman and injuring 22 other people, now says in a jail interview that he attempted to "fix his life" and sought help but failed to receive it on time.
READ MORE: 1 dead after car plows into pedestrians at New York's Times Square
In an interview with the New York Post, the suspect Richard Rojas made emotional pleas for forgiveness, while at the same time remaining seemingly dumbfounded about Thursday's events, which he now claims he cannot recall.
Rojas says he attempted to consult a mental health counselor at a local veterans' center, but the specialist was not available until Monday, May 22.
"I was trying to get help. I wanted to fix my life. I wanted to get a job. Get a girlfriend," Rojas told the Post, speaking from Rikers Island. "He [the counselor] said he'd call me on Monday…Monday hasn't come yet."
Rojas claims that the last thing he remembers doing Thursday was driving his vehicle in an attempt to unwind.
"It was just a normal morning. I had a sandwich … I wanted to clear my head. I told my mom, I said I was just going around," he says, adding that later he "woke up in the precinct" and was "terrified."
At the time of his arrest following the shocking ramming of pedestrians in Times Square, which resulted in an 18-year-old woman being killed and serious injuries to several of the two dozen other people hit, the violent Rojas was recorded to be saying to police: "You were supposed to shoot me! I wanted to kill them." Prosecutors says he also shouted that he smoked marijuana and laced it with Phencyclidine, a dissociative drug known as PCP or "angel dust" with hallucinogenic side effects.
However, speaking to the New York Post on Saturday, Rojas appeared less certain about what he smoked, saying: "I guess it was laced with something."
Not directly accepting his guilt and saying that he still wants to "verify that I'm the person" behind the rampage, Rojas apologized to the victims of his crazed drive.
"I just want to apologize to all the victims' families … I want to apologize to my mom," he said.
Rojas is facing charges of a second-degree murder, as well as 20 counts of attempted murder and five counts of aggravated vehicular homicide. Four of the victims injured in the attack were hospitalized in critical condition.
Michigan teen Alyssa Elsman was killed in the rampage, while her 13-year-old sister Ava, who was also hit, is now recovering in the hospital. Elsman's father, Thomas, reportedly suffered a breakdown following the tragedy, going to the precinct where Rojas was held and yelling that he was going to kill him. The Post reported at the time that Thomas was then offered help at the same hospital his younger daughter was at.
You can share this story on social media: