'I wanted to kill them,' Times Square crash driver tells police
Published time: 19 May, 2017 19:36
Edited time: 20 May, 2017 13:08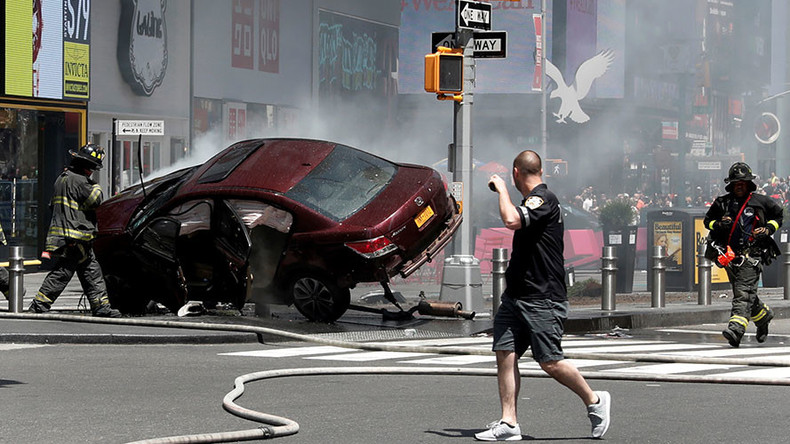 The man accused of driving into pedestrians in Times Square, killing an 18-year-old woman and injuring 22 others, wanted "to kill them" and police should have shot him, according to prosecutors.
Richard Rojas, a 26-year-old Navy veteran and Bronx resident with a criminal history, was arraigned in court on Friday on one count of second-degree murder, 20 counts of attempted murder and one count of aggravated vehicular homicide, according to AP.
In court, prosecutors said that Rojas told police after his arrest that he "wanted to kill them." He didn't enter a plea and is due back in court next week.
"His crime was a random, murderous rampage against the city and the folks who come to enjoy it," said prosecutor Harrison Schweiloch, according to the New York Daily News.
According to the criminal complaint, police said Rojas "had glassy eyes, slurred speech and was unsteady." Rojas also allegedly told an officer "I smoked marijuana. I laced the marijuana with PCP ," according to the complaint.
The effects of Phencyclidine (PCP), or its street name angel dust, include severe changes in body image, loss of ego boundaries, paranoia, and depersonalization.
Police said Rojas sped his car down Seventh Avenue around noon on Thursday before making a sharp U-turn, jumping the curb at 42nd Street where the first person was hit.
Rojas then drove the wrong way up three and a half blocks of Seventh Avenue sidewalk, accelerating and intentionally steering his car into fleeing pedestrians in an apparent bid at suicide-by-cop.
"Parts of his car, the side view mirror, license plates are falling off as he's striking these pedestrians. People are being dragged, they're on top of the car," NYPD Chief of Manhattan South Detectives William Aubry told reporters on Friday.
"He continues onto 44th, 45th, he actually goes underneath a scaffold," he added.
The vehicle eventually stopped on top of a stanchion, a metal barrier, before bursting into flames.
Rojas killed 18-year-old Michigan tourist Alyssa Elsman, who was standing with her 13-year-old sister. The 13-year-old, Eva, is recovering from a collapsed lung and a broken pelvis.
In total 19 people were hospitalized, one was treated at the scene, seven were admitted, three were in critical condition, and a 38 –year-old woman from Canada was in very critical condition.
According to sources, Rojas' statements were rambling, saying he'd been hearing voices and talked about the last day on Earth.
"There's preliminary tests that were done. They confirm what his statements were and there's also a more thorough exam that has to be done with the medical examiner and that's the blood results. Those are the results we're waiting for," Chief Aubry said.
A childhood friend of Rojas's says he seemed to become emotionally disturbed after a stint in the Navy from 2011 to 2014.
"That's my friend," Harrison Ramos told WINS. "I'm concerned for him. It hurts."
Just last Thursday, Rojas was arrested for menacing, accused of pulling a kitchen knife on a visitor to his Bronx home.
In April 2015, he was arrested for DWI in Manhattan and later pleaded guilty to operating a motor vehicle while impaired by alcohol. In August 2008, he was also arrested for DWI in Queens.
He was also arrested on suspicion of battery in 2012 at the Mayport Naval Base in Jacksonville, Florida, where he was stationed at the time.
Manhattan Criminal Court Judge Tamiko Amaker ordered Rojas held without bail.