Trump in Jerusalem: '1st' direct flight from Riyadh, hotel turned fortress & prayer at Western Wall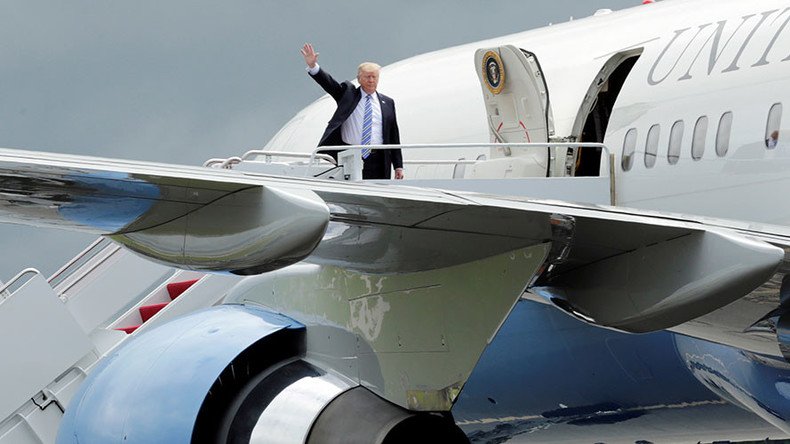 Extreme security is being put in place in Jerusalem, as the Middle Eastern city gets ready for the first abroad trip by US President Donald Trump. For the "historic" two-day visit, a poison gas-safe and rocket-proof suite has been prepared for the US leader.
Accompanied by several aircraft, Air Force One is expected to land at Israel's Ben-Gurion International Airport on Monday afternoon. The US presidential plane will arrive from Riyadh in Saudi Arabia, Haaretz reported, citing the schedule released by Israeli Prime Minister's office.
While Trump's first overseas trip has been already dubbed "historic" for many reasons, including the choice and sequence of destinations, it might also represent the first official direct flight from Saudi Arabia to Israel.
The two nations in the Middle East have no diplomatic relations, and there are no commercial flights between Israel's Ben-Gurion airport and Saudi Arabia, according to Haaretz, which also reported that Israeli airplanes are not even allowed to fly through Saudi Arabian airspace.
Private jets from Israel usually have to land in Amman for several minutes to get an approved flight plan, the Israeli newspaper reported. The never-seen-before exception has apparently been made for Trump's trip.
In last few days before Air Force One lands at Ben-Gurion, preparations for the US president's arrival are already in full swing, according to local media. Around 30 C-17 transport planes with hundreds of tons of equipment on board have started to arrive, Jerusalem Post reported.
Some 900 personnel and more than 50 vehicles, including 14 limousines, are to be brought in. However, Trump is expected to travel mostly by helicopter, the Times of Israel reported, adding that "organizers are hoping to avoid a repeat of a mishap during Obama's visit," when the US presidential limo reportedly broke down due to having the wrong type of fuel.
Among the cargo already delivered from the US are bullet proof glass to be installed in the president's hotel suite.
The Trump family will stay in a 140 sq meter suite at Jerusalem's King David Hotel, which includes a kitchenette and a Jacuzzi, and offers panoramic views of the Old City, Arutz Sheva network reported.
The same room was occupied by former US Presidents Barack Obama, Bill Clinton, and both Bushes.
Moreover, the luxurious suite - which costs about $5,700 per night - has bulletproof glass, is poison gas-proof and bomb-proof, and is built to withstand the collapse of the entire building, NBC News cited the property operations manager, Sheldon Ritz, as saying.
"The presidential suites have independent air conditioning in case of a gas attack and are built to withstand a RPG [rocket-propelled grenade]. But still the US is bringing rocket-proof glass to put in front of the window," NBC News cited Ritz as saying. "If the whole hotel blows up, the suite will come down in one piece," he added.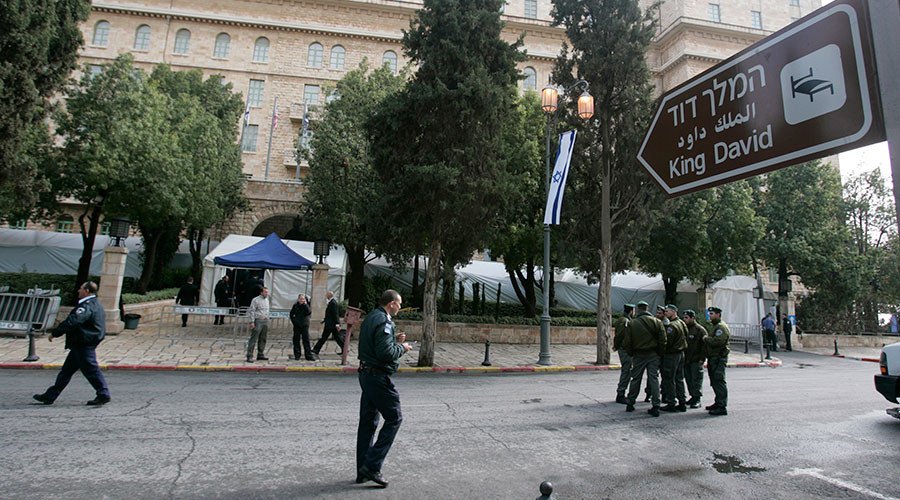 Infrared cameras will be deployed to hover above the building, and bomb-spotting robots will be placed in sewers beneath it, NBC News reported.
The hotel was emptied of its guests a week before Trump's arrival, Israel National News reported. According to the Times of Israel, Trump's entourage will take over all six floors in the building, with over 230 rooms being reserved for the delegation.
Some 500 guests who had already made reservations are to be relocated to other hotels, The Times of Israel reported.
Reporting that the hotel and its surrounding area "would become a virtual fortress," the Times of Israel said that all telephones and TVs in the suite would be replaced with security devices specially flown in from the US.
Elsewhere in the holy city, claimed as their capital by both the Israelis and the Palestinians, thousands of police and troops will safeguard the US leader. On Thursday night, joint exercises were conducted by Israeli police and the US secret service to practice a huge security operation code-named "Blue Shield," Israel National News reported.
There have been reports that due to strict demands from Washington, one of the planned locations to be visited by Trump while in Israel has been excluded from the list. Numerous preparations had been made at the ancient fortress of Masada, but after the US leader had been reportedly denied permission to land a helicopter at the protected site and told to use a cable car, the visit there was canceled, according to Israel National News.
The US president will visit Israel's Holocaust museum and memorial, Yad Vashem, and there meet with Israel's President Reuven Rivlin.
"The president will deliver remarks at the Israel Museum, and celebrate unique history of Israel and of the Jewish people, while reaffirming America's unshakable bond with our closest ally in the Middle East," US National Security Advisor H R McMaster told reporters earlier this week.
Trump will also meet with Israeli Prime Minister Benjamin Netanyahu, having been invited for a private family dinner.
On the second day of his visit, Trump will cross the 1967 border to the West Bank city of Bethlehem, to meet with Palestinian President Mahmoud Abbas. The US leader "will convey his administration's eagerness to facilitate an agreement that ends the conflict, and he will urge Palestinian leaders to take steps that will help lead to peace," McMaster informed the media.
"And he [Trump] will visit the Church of the Holy Sepulchre and say a prayer at the Western Wall," the US official added. Trump will become the first sitting president to visit the holy site in East Jerusalem.
While visiting the Western Wall, the president will be accompanied by his daughter and senior adviser, Ivanka Trump. She converted to Judaism when she married Jared Kushner, who will also join the American presidential delegation on the Trumps' first overseas trip.
You can share this story on social media: