Latino police associations, food giant Goya boycott NY Puerto Rican Day Parade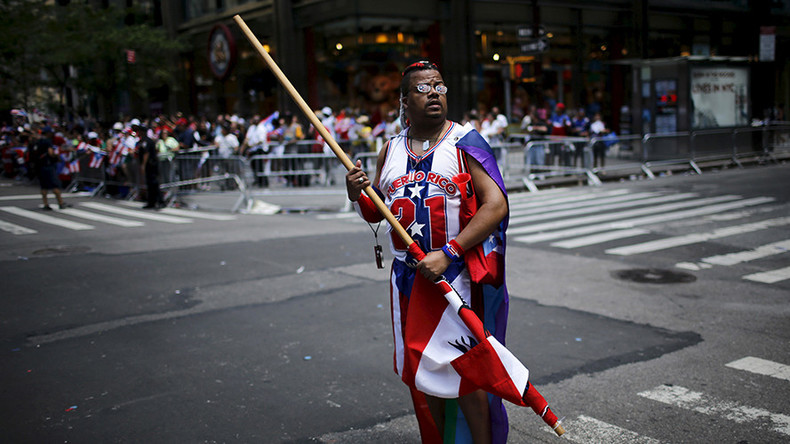 In a growing controversy, Latino police groups and the food giant Goya are boycotting Puerto Rican Day Parade in New York over it honoring Oscar Lopez Rivera because of his association with a nationalist group's bombing campaign which injured several police officers.
The NYPD Hispanic Society and the Rafael Ramos Foundation have pulled out of the June 11 parade after it was announced that Oscar Lopez Rivera would be honored as a "National Freedom Hero" at the event. Rivera was released from prison on May 17.
"We support the NYPD members who were seriously injured and the families of the innocent people who lost their lives during these attacks throughout the United States and in our city," the NYPD Hispanic Society said in a statement.
"We took an oath to protect and serve the people. Unfortunately, this year's views and values of the national Puerto Rican Day Parade committee do not conform with the society's mission of promoting peace and unity."
The Rafael Ramos Foundation was named after a Brooklyn police officer of that name murdered in 2014.
Rivera spent 36 years in federal prison on conspiracy charges for his ties to Fuerzas Armadas de Liberación Nacional (FALN), a group that fought for Puerto Rican independence, which the government claimed was responsible for more than 100 bombings, many against federal buildings, in the 1970s and 1980s, which killed four people and injured scores of others.
Rivera's supporters say his prosecution and conviction were politically motivated. He has said FALN was "adhering to international law that says that colonialism is a crime against humanity and that colonial people have a right to achieve self-determination by any means, including force."
Others warned against a pardon, saying Rivera didn't deserve one. He became a fugitive in 1976 when investigators reportedly discovered what they called a "bomb factory" in his Chicago apartment.
President Barack Obama commuted Rivera's sentence shortly before he left office, on January 17 this year. Previously, President Bill Clinton had offered López Rivera and 13 other convicted FALN members clemency in 1999, on condition they renounce violence, but López Rivera rejected it.
The Sergeants Benevolent Association announced they were joining the boycott Thursday. Its president, Ed Mullins, said: "The FALN was one of the most dangerous terrorist organizations in American history. There is no justification for lauding or celebrating its murderous leader."
A bombing in 1974 injured NYPD officer Angel Poggi, and in 1982 Officer Rocco Pascarello was injured, losing a leg and suffering eye damage, during a bombing of the New York Police Headquarters , and a separate bombing in 1982 at a federal building in Brooklyn where a NYPD bomb tech, Richard Pascarello, was injured.
Joining the boycott is Goya Foods, who dropped sponsorship of the parade earlier this week, after a 60-year relationship.
In a letter, Goya said: "It was strictly a business decision, and based on its corporate policy of non-confrontation. Goya does not endorse or participate in events or activities that are controversial to the public or that polarize the opinions of the interested parties for or against, as has unfortunately happened on this occasion."
New York Governor Andrew Cuomo has not confirmed whether he will attend but New York Mayor Bill de Blasio has said he would.
Mayor de Blasio to join Puerto Rican Day Parade march https://t.co/sHRUSni9os. An unrepentant bomber who killed people. Mayor is a disgrace.

— BAUKNECHT BS.MS.HRM (@dfbpoppi) May 19, 2017
Celebrated since 1957, the Puerto Rican Day Parade honors the nearly 3 million inhabitants of Puerto Rico and all people of Puerto Rican birth or heritage residing in the mainland U.S. by celebrating cultural resilience and pride, and showcasing Puerto Rican art, culture and music. The parade, usually on the second Sunday in June, is held across over 40 blocks along Fifth Avenue, watched by 2 million spectators and attended by Puerto Rican celebrities and musicians.
The parade has not been without controversy before.
In 2010, telenovela actor Osvaldo Rios, who served three months in a Puerto Rican prison for assaulting his former girlfriend, was scheduled to appear in the parade. Corporate sponsor Version threatened to withdraw its support, but after mounting pressure from the media and domestic violence organizations, Rios didn't attend.
Recently the parade has been dogged by accusations of financial misdealing and mismanagement investigations, and at least two interventions by state authorities. In 2014, the state attorney general, Eric Schneiderman, removed the organization's leadership, replacing them with a new board of directors.