Flint blood tests may be inaccurate, underestimate lead levels, FDA & CDC warn
Published time: 18 May, 2017 02:21
Edited time: 18 May, 2017 13:32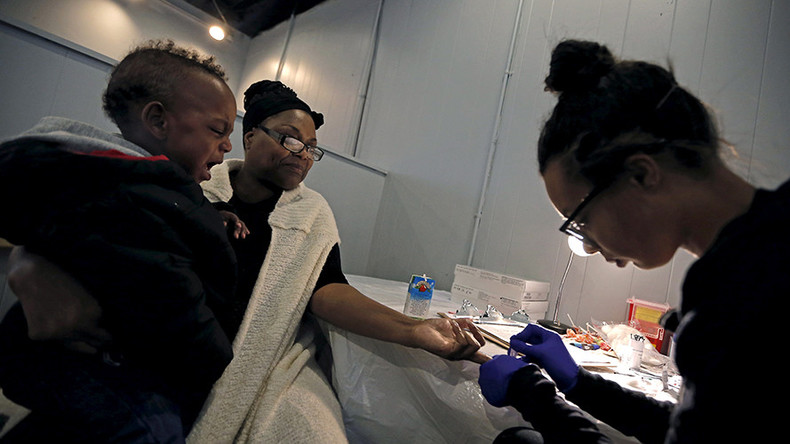 Federal officials are warning that certain lead tests manufactured by Magellan Diagnostics, which have been commonly used to test those affected by the water crisis in Flint, Michigan, may provide inaccurate results that underestimate lead levels.
On Wednesday, the US Food and Drug Administration (FDA) and the Centers for Disease Control and Prevention (CDC) both issued warnings about the validity of test results from Magellan Diagnostics' LeadCare analyzers. The agencies say the devices "may provide results that are lower than the actual level of lead in the blood."
The FDA's warning was issued for all four lead testing systems from Magellan Diagnostics including LeadCare, LeadCare II, LeadCare Plus and LeadCare Ultra. The agency is advising that lead tests using blood samples that are drawn from a vein should no longer be used.
"The FDA is deeply concerned by this situation and is warning laboratories and health care professionals that they should not use any Magellan Diagnostics' lead tests with blood drawn from a vein," Jeffrey Shuren, the director of the FDA Center for Devices and Radiological Health, said in the statement.
The FDA believes the issue may date back to 2014 when the Flint water crisis began.
READ MORE: Some Flint families not eligible for state food assistance supplement
The Michigan Department of Health and Human Services (MDHHS) issued a Health Alert Network (HAN) notification to ensure the healthcare community in the state received the warning.
Eden Wells, chief medical executive of MDHHS, said that while less than 2 percent of the lead tests performed in the state were performed with these devices using a venous blood sample, his department is taking the issue very seriously.
"We take this issue very seriously and will be working closely with our local health departments and health care providers to ensure they are aware of the recommendations and offering retesting as appropriate," said Dr. Eden Wells, chief medical executive of MDHHS.
Since 2014, 9,363 children under the age of six had tests performed with LeadCare equipment using venous blood samples, which is 1.7 percent of all the blood lead tests performed during that time.
The CDC recommends that parents of children who were under the age of six, women who were pregnant, and mothers who were nursing at the time they were tested should ask their doctor if they should be retested.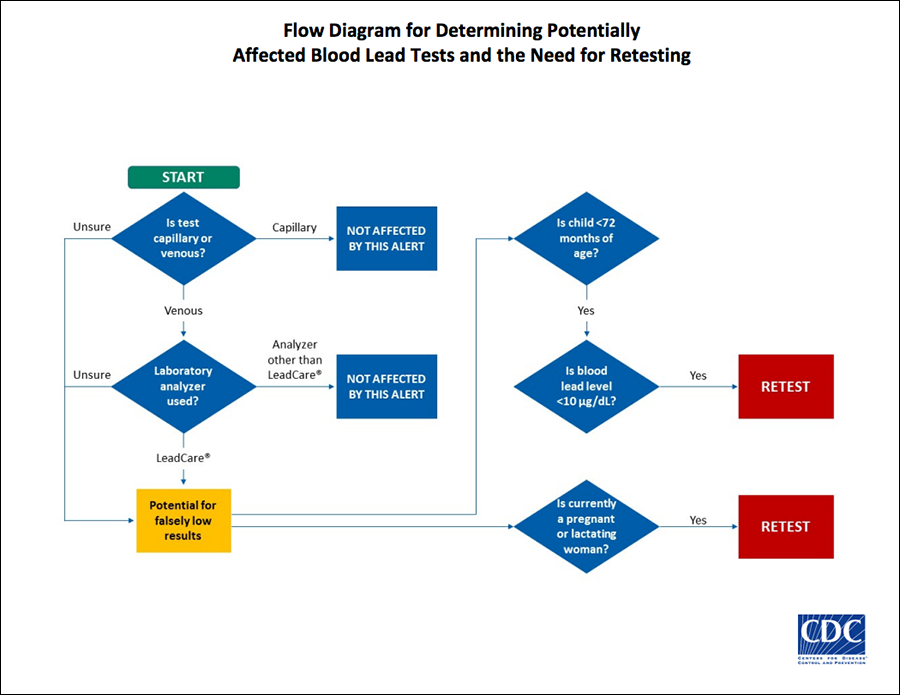 The CDC states that the safety alert does not apply to tests conducted with capillary blood collected by finger stick or heel stick at this time.
Patrick Breysse, the director of the CDC National Center for Environmental Health, says that there is no evidence that tests conducted with blood from a finger or heel stick are inaccurate.
Breysse said that the agency determined that "less than 1 percent, perhaps, might be at risk for being underestimated because they were a venous draw that were tested on the Magellan system," according to NPR.
In a letter to customers, Magellan Diagnostics advised that facilities discontinue using venous blood samples with their testing systems. The company apologized for the interruption and promised they will "continue to work closely with the FDA to address the concerns identified with venous samples as quickly as possible."
The reasons why the tests are inaccurate is still unknown, but Shuren says the FDA is "aggressively" investigating the issue along with the CDC and other public health partners "to address the problem as quickly as possible," according to the statement.
The CDC website states that 4 million US households have children that are exposed to high levels of lead and approximately a half-million children under the age of five have lead levels above 5 micrograms per deciliter (µg/dL), a level at which the agency recommends public health actions be taken.
The CDC warns that "no safe blood lead level in children has been identified."
Lead poisoning is difficult to detect, but exposure to even small amounts of lead can result in serious health issues for children, who are at risk of developing "irreversible" brain damage and seizures, according to the Mayo Clinic.
Adults with high lead levels are at risk of developing problems with memory and concentration, while pregnant women will high lead levels are more at risk of miscarriage, stillbirth or premature birth. Higher lead levels can cause damage to the kidneys and nervous system, while very high levels can be fatal, the Mayo Clinic states.