Some Flint families not eligible for state food assistance supplement
Published time: 15 May, 2017 21:21
Edited time: 17 May, 2017 12:00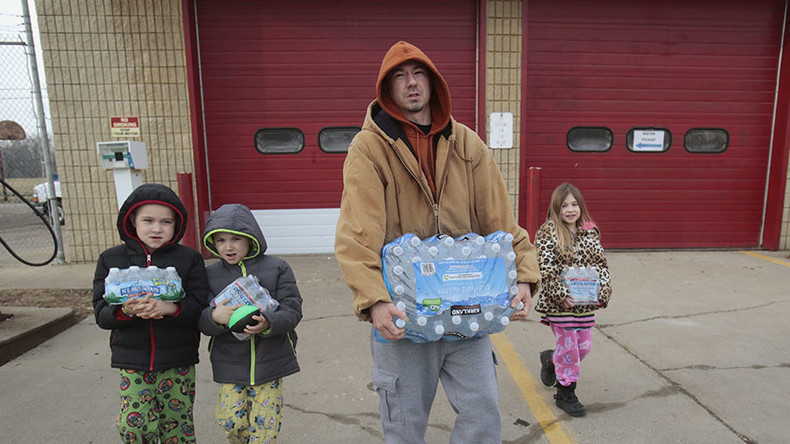 A Michigan assistance program designed to help Flint families affected by the lead contamination crisis won't include those families that fled the city during the height of the contamination, according to authorities.
"With the limited funding that was available, we decided to make the money available to those families currently living in Flint," Bob Wheaton, spokesman for the Michigan Department of Health and Human Services, told RT.
Michigan Department of Health and Human Services sent out letters notifying families of nearly 16,000 Flint children that they would be entitled to $30 a month per child for the month of March under a $7 million food assistance block grant. Families are eligible who live in Flint, who were served by the city of Flint water system and have children under 18 years of age.
The state's plan is that families will spend the money on fresh fruit, vegetables, tuna and milk which are alleged to mitigate the absorption of lead. A state spokesman said help for those families can come from food pantries.
The money would be added to their food assistance cards. Under the program, families will also receive a lump sum payment of $420 in May. Wheaten said that $7 million is the extent of the grant.
One of the families not eligible for the program was the Smiths, whose 4-year old son, Sincere Smith, became the national face of the Flint water contamination crisis when his picture appeared on the cover of Time magazine.
They left the city, but stayed in county.
"If I had moved to another state, I could understand being treated differently and everything, but moving just 15 minutes away, I feel like… it's kind of unfair," Sincere's mom, Ariana Hawks, told the Detroit Free Press. "I'm still within Genesee County."
Hawks said all the kids affected by the Flint water crisis should be entitled to the same benefits, even if they don't live in the city anymore, or don't quality for food assistance benefits.
Dr. Mona Hanna-Attisha, a pediatrician in Flint who was instrumental in exposing the lead problem, said people who left the city should still qualify for assistance.
Hanna-Attisha said that, although lead stays in a person's blood for a short period, eventually it gets stored in their bones, where it can remain for decades.
"When you have poor nutrition in the future, it comes back out of your bones, back into your bloodstream and causes that neurotoxicity all over again," she told Detroit Free Press. "In addition, we know that children obviously need nutrition for brain development."
Wheaton told RT: "There are options for other individuals."
He added: "There is the food bank of Eastern Michigan which has mobile food pantries in that county [Genesee] and other counties surrounding Flint, where the same type of nutritious food is available for no charge to families. If people have moved out of the Flint they can still have access to those food pantries."
The website is fbem.org which provides information on the closest food pantries to residents.
Flint, located 70 miles north of Detroit, is a city of 98,310, where 41 percent of residents live below the poverty line and the median household income is $24,862, according to the US Census Bureau. The city is 57 percent African-American.
There are ongoing prosecutions in the state since Flint first began using its river for drinking water from April 2014 until October 2015 without employing corrosion controls to prevent lead contamination. Unsuspecting Flint residents, including thousands of children, were exposed to water with high concentrations of lead.
Flint's water quality has improved since the fall of 2015 when the city switched back to Detroit's water system, although tap filters are still recommended. The city hopes to replace 6,000 lead water lines at homes this year but thousands more remain.
In March, the Environmental Protection Agency announced that it has awarded $100 million to Flint for drinking water infrastructure upgrades.
The same month, a federal judge approved a $97 million settlement, in which the state of Michigan agreed to replace lead or galvanized steel water lines in the City of Flint. The state will cover the cost of replacing water lines – the pipes that connect household plumbing to the main distribution pipe running beneath the street – for at least 18,000 Flint households by 2020.