With us or against us: Haley threatens other countries with sanctions over North Korea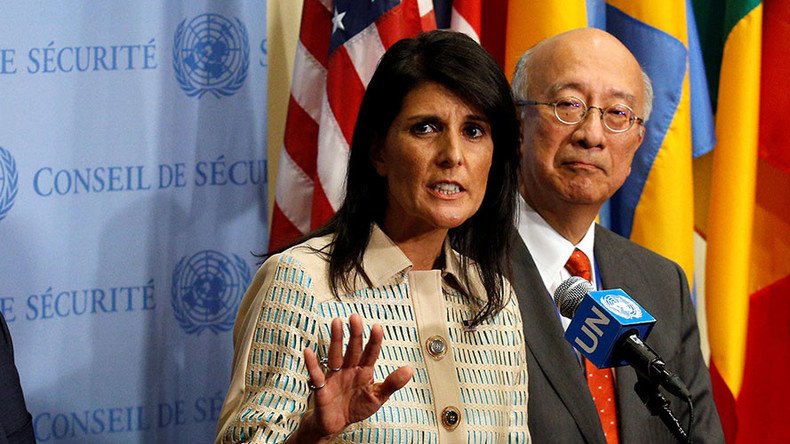 North Korea's missile and nuclear tests pose a threat to every country in the world, and the international community has to make a choice between supporting Pyongyang and facing the wrath of Washington, said US ambassador to the UN Nikki Haley.
"This is a true threat to every country in the world," Haley told reporters at the UN headquarters in New York on Monday, flanked by the ambassadors of Japan and South Korea.
"Right now, North Korea is trying to pose a threat in every way possible," she added.
Echoing her earlier comments, calling North Korean leader Kim Jong-un "paranoid," Haley said that Pyongyang had no reason to be hostile, as the US was not trying to assassinate him or organize regime change.
"For peace on the Korean peninsula, he has to stop this testing – he has to stop any nuclear programs that he has," Haley said, adding that the US would be "willing to talk" only if North Korea stopped all of its nuclear and missile tests. In the meantime, however, US troops will continue to drill along the border between the Koreas, and "have the back" of South Korea and Japan, she added.
"The US is not past looking at third-country entities who are helping North Korea, and putting sanctions on them," Haley said, sending a pointed message to the UN members. Washington intends to "tighten the screws" on North Korea and apply every kind of economic, diplomatic, and political pressure, she added.
"If you are a country that is supplying or supporting North Korea, we will call you out on that," Haley said. "And we will target those sanctions towards you as well."
"You either support North Korea, or you support us," she said. "You have to choose, you have to pick a side."
Moscow should be very worried about North Korea's missile tests, Haley said, noting that the most recent missile fell into the Sea of Japan just 60 miles (96 kilometers) from Vladivostok, Russia. The Russian Defense Ministry said the missile splash was over 300 miles (500 kilometers) away.
Responding to Russian President Vladimir Putin's statement warning against "intimidating" Pyongyang, Haley said that it was North Korea doing the intimidating, of the "entire international community."
You can share this story on social media: