Ohio cop overdoses on high-risk painkiller fentanyl after contact during stop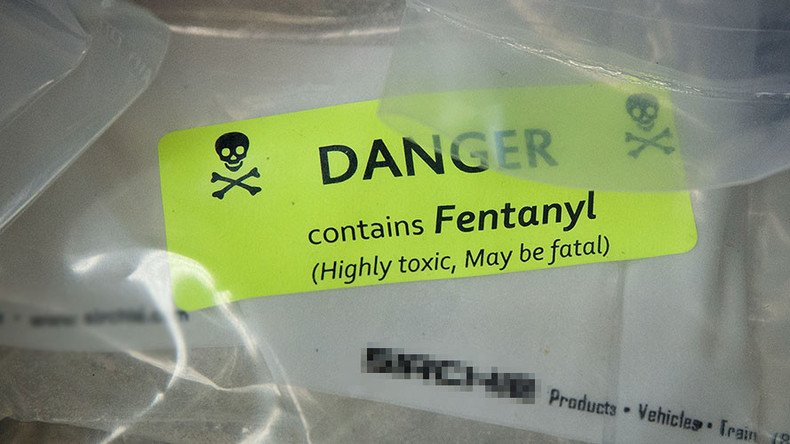 An Ohio police officer is recovering from an accidental overdose after making a drug stop where he accidentally brushed a small amount of powder off his shirt without realizing it was the highly potent opioid synthetic drug, fentanyl.
East Liverpool patrolman Chris Green responded to a traffic stop Friday after two suspected drug dealers were seen performing a drug transaction in a car, according to a police report obtained by WKBN.
The police report says that after officers blocked a blue Monte Carlo, Justin Buckle, 25, and his passenger, Cortez Collins, 24, attempted to dispose of the evidence.
"We think they were trying to flee, but they were blocked in," East Liverpool Captain Patrick Wright said, according to WKBN. "Once they got blocked in, they tried to dispose of the evidence in the vehicle."
"There was white powder on the seat, on the floor, on the guys' shoes, and on his clothing," Wright said.
Green said he mostly followed protocol for inspecting the car, putting on gloves and a mask after patting down the men.
"When I got to the scene, he was covered in it. I patted him down, and that was the only time I didn't wear gloves. Otherwise, I followed protocol," Green said, according to the Morning Journal News.
Around an hour after being arrested, Buckle complained that he was not feeling well and police called an ambulance.
Just then, one of the officers pointed to a small amount of powder on Green's shirt and he quickly wiped it off with his hand.
"Just out of instinct, he tried to brush it off — not thinking," Wright said.
Within minutes, Green says he began to feel the effects of the drug, which can be absorbed into the body through contact with the skin.
"I started talking weird. I slowly felt my body shutting down. I could hear them talking, but I couldn't respond," Green told the Journal. "I was in total shock. 'No way I'm overdosing,' I thought."
An officer caught Green before he fell to the floor. The ambulance crew that arrived for Buckle then began focusing on Green.
At the station, the medical responders gave Green a dose of the opioid antidote Narcan, followed by three more doses after he was taken to the hospital.
Green was released from the hospital Friday. When the Journal contacted him Saturday, Green said he was still feeling the effects of the drug.
"[My head] feels like it's in a vice grip, my heart feels like I got kicked in the chest and my stomach feels like I have a case of the flu," Green told the Journal. "I can't wrap my head around (why anyone would take the drugs)."
Buckle and Collins have been charged with tampering with evidence. They are each being held on $100,000 bond, according to WKBN.
Fentanyl is used as a substitute for opioid-dependent individuals, but it is more dangerous than heroin because it is "much more potent than heroin and results in frequent overdoses," according to the Drug Enforcement Administration (DEA).
Fentanyl is 100 times more potent than morphine. However, a version of the drug called Carfentanil, which is used as a tranquilizer on large animals, is 10,000 times more potent than morphine.
East Liverpool Police Chief John Lane told the Journal that the car they had pulled over had child safety seats in the back. When the mother came to the station to pick up the car, he told her that it was too dangerous to be used to transport children.
"We're going to try and seize that car and destroy it. How do we neutralize it? It only takes one granule (of carfentanil) to kill an adult. These people have no regard for anybody, not themselves, not the police, not their kids," Lane said. "Their priority is not about anything but that next high."
On Saturday, the East Liverpool Police Department posted a message to Facebook, calling on the state government to draft legislation "to protect our safety forces from these harmful drugs."
"Those in possession not only pose a risk to themselves but everyone they come into contact with as well," the police department wrote.
In September, the East Liverpool Police Department posted disturbing images showing a mother and father overdosing on heroin while driving in a car with their four-year-old child in the back seat.
You can share this story on social media: