New York teacher fired for ripping off 8yo girl's hijab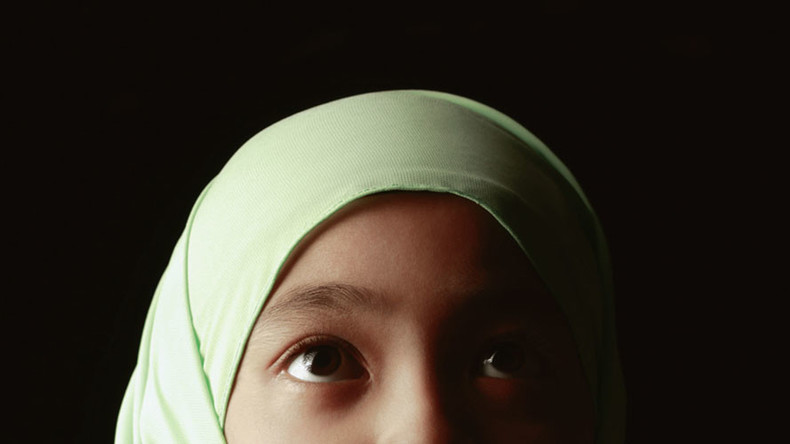 The New York Department of Education has fired a substitute teacher working at a school in the Bronx, New York, after he allegedly ripped the hijab off an eight-year-old girl for "misbehaving" in class.
"This alleged behavior is completely unacceptable," said Michael Aciman, a New York Department of Education spokesman about the firing, according to the New York Post. "This individual was removed from the school immediately and his employment has been terminated."
Police said the incident happened last Tuesday at the Bennington School, PS 76, when the girl, Safa Alzockary, was playing up in class and sitting in the teacher's chair without his permission.
The teacher, Oghenetega Edah, 31, tapped her on the arm to get her to move. When she wouldn't he threatened to take the head scarf, according to NYPD.
"I'm taking it off," he said as he pulled the hijab off her head, bringing the scarf down across her face and causing irritation to her right eye, police contend.
The youngster was taken to Jacobi Medical Center where a doctor said there was no permanent damage to her eye.
A hijab is a veil traditionally worn by Muslim women in the presence of adult males outside of their immediate family, and usually covers the head and chest. It is a symbol of modesty and privacy.
But Safa, whose twin sister and older brother also attend PS 76, was apparently traumatized by the sub's alleged actions.
"It was scary," Safa told the New York Daily News.
Safa's dad Mohamed Alzockary, a devout Muslim and grocery worker who emigrated from Yemen, was shocked by what his daughter said happened in school.
"I didn't expect a teacher to do that to a child," Alzockary said. "She's OK right now ... but kids, they're nervous."
The New York Department of Education fired Edah on May 3. He started working at the school as a per diem substitute teacher in January and had a clean record.
The incident is still under investigation by the New York Police Department.
Incidents involving hijabs in the public schools are rare, Education Department officials told the Daily News. In 2011, two Staten Island students were charged with hate crimes for snatching one of the religious scarves from the head of a classmate.
While incidents in schools might be rare, there have been other attacks in New York.
In December last year, an off-duty New York City police officer and her son were the victims of harassment after they were physically and verbally attacked while dropping her son off in Brooklyn. The man who allegedly targeted them because the officer is Muslim.
The incident began in Bay Ridge, Brooklyn, where officer Aml Elsokary had dropped off her 16-year-old son on a corner and went to park her car. When she returned, she found a man, Christopher Nelson, shoving and yelling at her son. Nelson turned his attention to Elsokary and said, "ISIS [expletive], I will cut your throat, go back to your country," WCBS reported.
In mid-April, a Sikh New York taxi cab driver was attacked, he was called "Ali Baba" and had his turban stolen during a confrontation with a drunken passenger. Police are investigating the incident as a possible hate crime.
"I'm so afraid. I don't want to work," Harkirat Singh told the New York Daily News about the incident. "It's an insult to my religion, also. An insult to my faith. It's horrible."
After the 9/11 attacks, the backlash that hit Muslims across the country expanded to include Sikhs as well, and the alarming trend continued following other terrorist attacks, including the 2016 Orlando nightclub shooting.
In May 2016, a Sikh man was fixing the car in his driveway in Kent, Washington state, when a gunman wearing a mask approached him and pulled the trigger, telling the victim to "go back to your own country," he told police.
Rajdeep Singh Jolly, managing director of programs for the Sikh Coalition cautioned that violence against Sikh is not exclusively a post-911 phenomenon, and not exclusively tied to anti-Muslim bias. Violence and discrimination is almost a century old, going back to 1907, where Sikhs were discriminated against because "they were perceived different, as foreign, as alien."
"Certainly hate crimes against Sikh has accelerated in the post 9-11 phenomena because the prevailing stereotype is if someone wears a turban they are somehow affiliated with Al-Qaeda and ISIS, whereas the majority of Americans who wear turbans are Sikhs," Jolly told RT.