'Go back to your country': Sikh reports racist slurs, gun attack near Seattle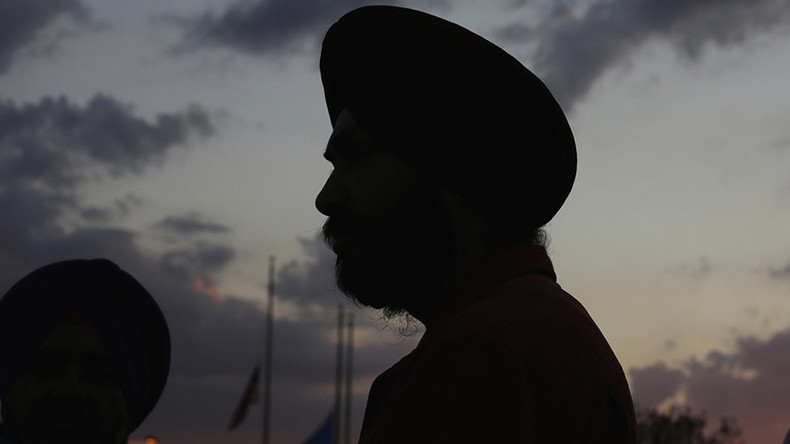 A Sikh man was fixing the car in his driveway in Kent, Washington, when a gunman wearing a mask approached him and pulled the trigger, telling the victim to "go back to your own country," he told police.
The victim, a Sikh man aged 39, told police that an altercation followed after the attacker approached him, the Seattle Times reported, citing local police. The gunman – described as a stocky, 6-foot-tall white man wearing a mask over the bottom part of his face – allegedly shouted, "go back to your own country," and opened fire, injuring the victim's arm.
"Some comments were made to the effect of 'get out of our country, go back to where you're from,' and our victim was then shot," Kent Police Chief Ken Thomas told a news conference, as cited by Reuters.
Luckily, the man's wounds were not life-threatening, but the attacker is said to still be at large. Kent Police have contacted the FBI and other law enforcement agencies to track the suspect.
"We're early on in our investigation," Thomas added. "We are treating this as a very serious incident."
Jasmit Singh, a leader of the Sikh community in the neighboring suburb of Renton, said the victim was released from the hospital, but "he is just very shaken up, both him and his family."
"We're all kind of at a loss in terms of what's going on right now, this is just bringing it home. The climate of hate that has been created doesn't distinguish between anyone," he told The Seattle Times.
The report from Kent comes just weeks after an Indian man was shot dead in Kansas by another gunman who allegedly shouted racist insults. Srinivas Kuchibhotla, 32, died from his wounds, while his friend who was also shot in the encounter, Alok Madasani, was released from the hospital.
Followers of Sikhism, a religion originating from the Punjab region in northwestern India, have previously been the target of hate-motivated attacks in the US, as their turbans are often mistaken for the headdress worn by Al-Qaeda leaders, including Osama bin Laden.
After the 9/11 attacks, the backlash that hit Muslims across the country expanded to include Sikhs and their faith as well, and the alarming trend has continued following other terrorist attacks, including the 2016 Orlando nightclub shooting.
You can share this story on social media: