'Catastrophic failure': Oil spill in NYC East River requires massive cleanup
Published time: 10 May, 2017 03:48
Edited time: 10 May, 2017 11:12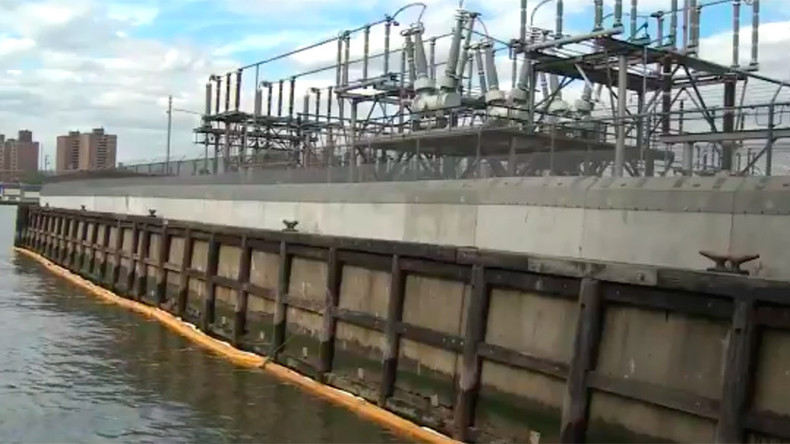 The US Coast Guard has declared part of New York City's East River a "safety zone" after an unknown amount of oil spewed from a Con Edison substation into the notoriously polluted waterway. A massive cleanup is currently underway.
A statement from Con Edison says a transformer, containing roughly 37,000 gallons of oil, malfunctioned Sunday, releasing "much of the oil" into the station property and the river.
Coast Guard Chief Warrant Officer Allyson Conroy told the Gothamist that a "catastrophic failure" caused a transformer to leak dielectric fluid, a mineral oil used for cooling electronic equipment.
Con Ed spokesman Allan Drury said the spill happened at a substation on John Street in DUMBO along the Brooklyn coastline.
Witnesses told the Gothamist that the spill could be seen for miles, with some reporting they could see it from Hunter's Point South Park in Long Island, Queens.
The Con Edison spokesman said that more than half the oil is still in the transformer, according to WPIX.
"We will continue to assess the volume of oil that migrated to the East River, and how much oil remains in the ground on our property," Con Edison stated in a press release.
On Tuesday, the energy company said they responded to the spill "immediately" by setting up booms, absorbents and skimmers around the spill in the river. The US Coast Guard, the New York State Department of Environmental Conservation and other agencies are also helping with the cleanup process.
"We are taking all actions to contain and clean up the oil as safely and as quickly as possible," the company said.
The Coast Guard has declared a "safety zone" for everything south of the waters off Dupont Street in Greenpoint and East 25th Street in Midtown Manhattan, down to Red Hook, and the southern end of the Buttermilk Channel, according to the Gothamist.
The Coast Guard issued speed restrictions for all commercial vessels and has banned recreational boats from the "safety zone" as the cleanup crews assess how much oil leaked into the river.
"Recreational and human powered vessels may not enter, remain in, or transit through the Safety Zone during the enforcement period unless authorized by the Coast Guard Captain of the Port or designated Coast Guard personnel," Conroy told Patch. "Mariners are requested to exercise caution while in the area."
Conroy went on to say that although the oil is not as toxic as the oil in most spills, anyone who comes in contact with it should immediately "wash their skin and avoid touching their eyes."
The spill also caused problems for the New York City Ferry, which travels near the East River.
"The East River route will be subject to delays for the remainder of the day as a result of an oil spill on the East River," a statement from the NYC Ferry website states.
The oil additionally caused a system voltage dip that disrupted subways in the city on Sunday.