San Francisco NGO pledges $100mn to fight homelessness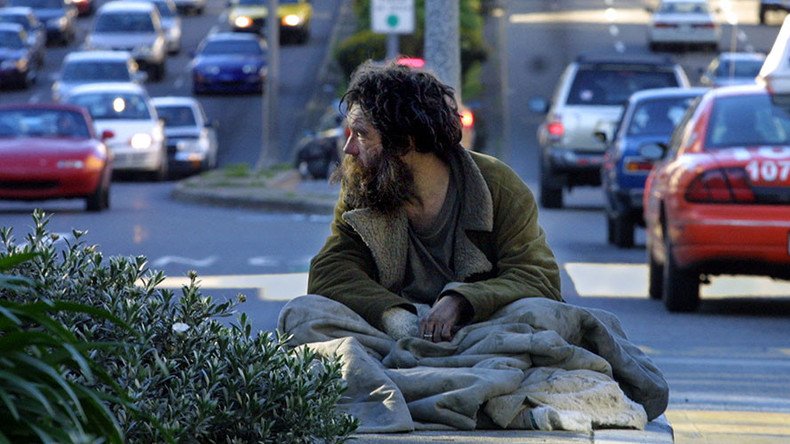 A poverty-fighting non-profit organization has pledged to raise $100 million to reduce "chronic homelessness" in San Francisco by half over the next five years, saying it's "unacceptable" that thousands are living on the streets in such a prosperous region.
Tipping Point Community, the San Francisco-based organization, said it will use the money to create new housing units, improve aid to vulnerable groups, such as people with mental illness, and enhance the capacity of the public sector.
The group has so far raised $60 million towards achieving this goal. The $100 million challenge will be the largest amount of private money raised to address homelessness in San Francisco's history.
"It's time for an all-hands on deck approach — the public and private sectors must work together in a new way," Daniel Lurie, Tipping Point's CEO and founder, said in a statement.
"It is unacceptable that in a region with such creativity, wealth, and generosity that thousands of people are living on the streets. Homelessness is a humanitarian crisis, and the issue of our time," he stressed.
Anyone who has stayed on the street for over a year and has a mental or physical disability is "chronically homeless," Tipping Point Community says, adding that on any given night in San Francisco some 2,000 people fit that description.
There are currently nearly 7,000 homeless people in San Francisco, according to the Department of Housing and Urban Development's 2016 Annual Homeless Assessment Report (AHAR) to Congress, released in November.
But while according to the AHAR report individual homelessness nationwide in the US declined by 14 percent between 2007 and 2016, San Francisco's homeless population increased from 5,823 in 2010 to 6,996 in 2016.
City authorities say there's no simple, quick-fix solution to the problem.
"There is no silver bullet to solve the complex issue of homelessness," San Francisco Mayor Ed Lee said in a statement.
"We want new ideas to address this issue, and must tackle it from all angles. Tipping Point is bringing enormous private sector resources to help the City expand programs proven to be successful in moving people off the streets and connecting them with resources they need."
Some say homelessness has to be addressed from the right angle.
The Western Regional Advocacy Project (WRAP), created to "expose and eliminate the root causes" of civil and human rights abuses of poor and homeless people, says the biggest challenge is to "hold the federal government responsible for restoring affordable housing funding and protecting poor and homeless people's rights."
WRAP head Paul Boden said the $100 million donation to the city of San Francisco may well fail to address the key problem, that of chronic federal divestment from providing low-income housing.
"It's going to be three years and the problem still won't be dealt with and we'll just go on calling it intractable," Boden told the Guardian.
He also voiced concerns that families and youngsters would be left out because they are not part of the chronic homeless population.
"You don't see youth on the street; you don't see families. They're hidden,so they don't get services," he said.
You can share this story on social media: