Los Angeles seeks to ban people from sleeping in cars and RV's near homes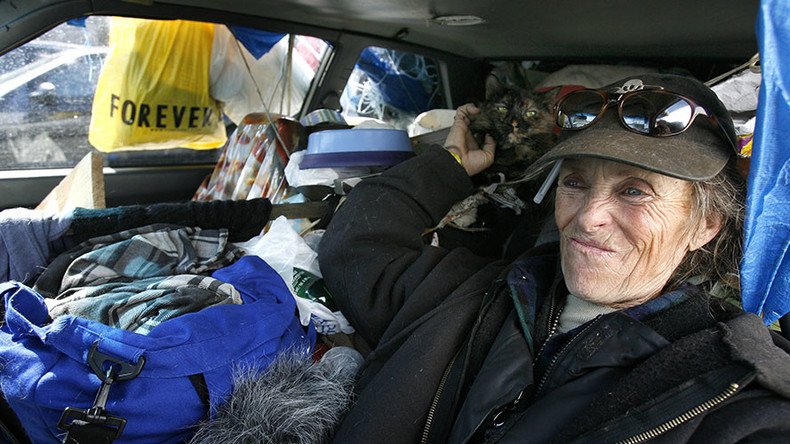 LA legislators passed an ordinance that would ban people from sleeping in cars and recreational vehicles (RVs) near homes, parks and schools. Advocates see the ordinance as the latest move to criminalize homeless people.
The Los Angeles City Council voted in favor of the ordinance on Wednesday. Banning people from sleeping near homes, schools and parks in their vehicles, would, if signed into law, only make it legal to sleep overnight in cars and RV's in industrial or commercial districts from 9:00pm to 6:00am.
Advocates said the block-by-block regulations limit homeless people's options and "banish working mothers with children to isolated and dangerous corners of the city far from work or school."
"There are a lot of working families that live in their cars," Venice resident Mike Chamness testified during the hearing, according to the Los Angeles Times. "There is nowhere in Venice where you can park your car and sleep in your vehicle."
The ordinance referred to the unsanitary conditions, noise and crime associated with vehicle–dwelling and the practice "diminishes the economic viability of the city and its many tourist attractions."
"There are hundreds of thousands of people … who are concerned people have turned their curbs into an apartment," Councilman Marqueece Harris-Dawson, who represents parts of South Los Angeles, said during the council's brief public hearing, according to the LA Times. "That's just not fair to anybody."
City Councilman Mike Bonin told the LA Times that the city's streets would also be open for overnight parking. He said there is a plan working its way through the committee that would develop parking lots where homeless people can sleep.
The ordinance also includes penalties for breaking the ban.
The first time someone is found to be illegally living in a vehicle, they will be fined $25. The amount increases to $50 the second time and then to $75 for all following citations. The schedule also includes a provision for an initial warning without a fine.
According to the Los Angeles Homeless Services Authority, roughly 5,000 residents are sleeping in cars at any given moment throughout the city.
"There is a problem with putting people in jail for performing life-sustaining functions when there is no other place to do it," civil rights attorney Carol Sobel told the LA Times.
Attorneys said if the new ordinance is used only against homeless people it would be discriminatory.
The city had a 1983 measure that prohibited vehicle-dwelling citywide that was used as an enforcement tool to control growing homelessness. The law was struck down two years ago by the 9th US Circuit Court of Appeals, which held that it was an invitation to discriminate against homeless people.
Homelessness is being criminalized all over America, and in some places it is even illegal to feed homeless people. In Florida police arrested a group of charity workers for breaking a newly-imposed law against feeding the homeless. Among those charged was a 90-year-old advocate for the homeless.
The new ordinance would be revisited in July 2018 after a study of the number of occupied vehicles; the impacts on public health, safety and the environment; and effectiveness of the new regulations.
Los Angeles Mayor Eric Garcetti has not said whether he'll sign the measure into law, according to AP.
You can share this story on social media: