'Like' it or not, it's the law: Texas governor signs anti-sanctuary bill on Facebook Live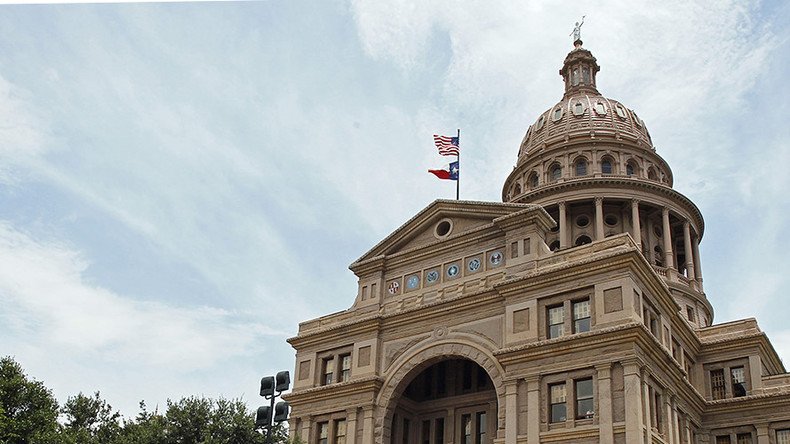 Police in Texas will have to cooperate with federal immigration officials or face fines and jail under a new law cracking down on "sanctuary cities." Governor Gregg Abbott sidestepped planned protests against the law by signing it on Facebook Live.
Senate Bill 4 allows law enforcement to ask the people detained about their immigration status and blocks local jurisdictions from passing laws that would prohibit such questioning. The law also imposes misdemeanor criminal penalties for officers who refuse to cooperate with federal immigration authorities, with fines ranging up to $25,000 a day.
Abbott, a Republican, signed the bill Sunday night in a Facebook livestream, surprising the opposition Democrats and immigration advocates, who had called for protests on Monday and Tuesday in expectation that the bill would be signed during working hours. It was the first time a Texas governor has enacted a law via social media.
"The reason why so many people come to America is because we are the nation of laws," Abbot said after signing the bill. "Texas is doing its part to keep it that way."
The governor invoked the death of Kate Steinle, shot in June 2015 by an illegal immigrant who had been deported from the US five times, but kept getting released by the authorities in San Francisco, California, because it was a "sanctuary city."
"He should never have been in this country. If he hadn't, Kate would still be alive today," Abbott said, according to the Houston Chronicle. The law will take effect on September 1.
"As Governor, my top priority is public safety, and this bill furthers that objective by keeping dangerous criminals off our streets," Abbott said in a statement after the signing. "It's inexcusable to release individuals from jail that have been charged with heinous crimes like sexual assault against minors, domestic violence and robbery. There are deadly consequences to not enforcing the law, and Texas has now become a state where those practices are not tolerated."
Critics of the bill said it would lead to discrimination against Latinos and have a "chilling" effect on immigrant families, according to AP. Democrats have called it a "show-me-your-papers" measure, comparable to the 2010 Arizona bill that was contested all the way to the US Supreme Court.
Abbot has pointed out that the Supreme Court decision upheld the Arizona law's provision allowing police to ask about immigration status, and expressed confidence the SB4 will stand up in court.
The Texas chapter of the American Civil Liberties Union (ACLU) has announced it intends to challenge the law, which it says encourages racial profiling and will "clog" the state's jails.
"It will not stand," ACLU Executive Director Terri Burke said in a statement.
State representative Cesar Blanco, a Democrat, accused the governor of using social media to "get ahead" of planned protests against the bill. Last Monday, 20 people were arrested after a sit-in protest at Abbott's office and charged with criminal trespassing, according to AP.
The governor's office said it chose to show the signing via Facebook Live because that is "where most people are getting their news nowadays," according to Abbott's spokesman John Wittman.
While almost 5,000 people had an "angry" reaction to the livestream by Monday morning, some 10,000 have either "liked" or "loved" it.
You can share this story on social media: