US Navy launches colossal 46,000 ton warship (VIDEO)
Published time: 5 May, 2017 13:44
Edited time: 6 May, 2017 11:07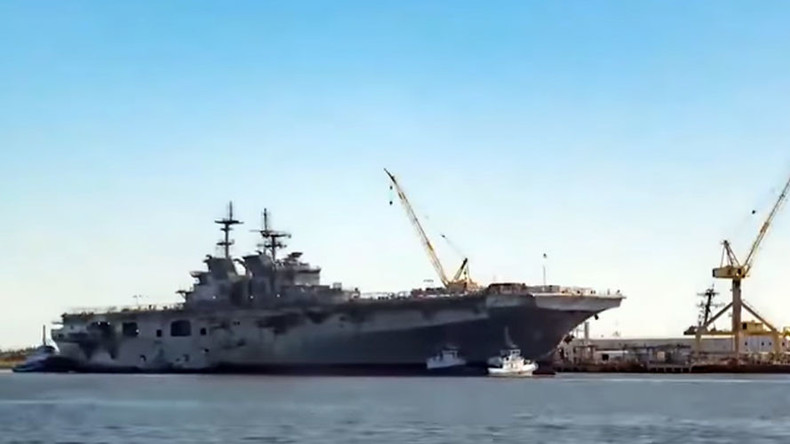 The US Navy launched its second America class amphibious assault ship, the 'USS Tripoli', from its shipyard in Mississippi this week, months ahead of schedule.
Timelapse video from the shipbuilding facility shows the vessel being transported to the dry dock at Huntington Ingalls Industries' (HII) shipyard before launch.
Designed to carry the F-35B fighter jet, the warship was launched some 13 weeks ahead of the original construction schedule, according to the military shipbuilding company.
The 'USS Tripoli' – officially designated Landing Helicopter Assault (LHA) 7 – was transferred from land to the company's floating dry dock in Pascagoula, Mississippi on April 8.
Some 247 jacking and pallet cars were used to support the displacement of the 45,693 metric ton ship during the 19-hour operation, according to the US Navy, who described the moving process as one of the most "well-executed" they've seen on a larger ship.
The ship was successfully launched on May 1 after the dry-dock was flooded to submerge the ship, floating it for the first time. Delivery is expected at the end of 2018.
READ MORE: Chinese military apologizes for badly photoshopped Navy pic after online scorn
The 'USS Tripoli' is capable of accommodating up to nine F-35Bs, can execute vertical or short takeoffs and vertical landings without requiring a catapult launcher. It will also be able to carry some 1,800 US Marines and amphibious warfare equipment.
Tripoli offers an enlarged hangar deck, enhanced maintenance facilities, increased fuel capacity and additional storerooms to provide the fleet with a platform "optimized for aviation capabilities," according to the US Navy.
The lead ship in this class, the 'USS America' (LHA-6), was commissioned into the US Navy in October 2014 and is lined up for its maiden deployment later this year.
Meanwhile, construction on the next ship in the planned fleet of 11, 'Bougainville' (LHA 8), is scheduled to begin in late 2018.