'USS Carl Vinson' in show of force with S. Korea & US destroyers (VIDEO)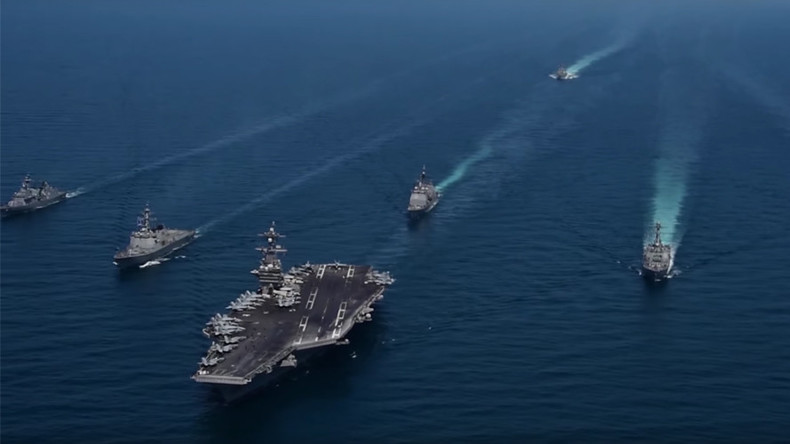 The US Navy has released a video of its state-of-the-art Nimitz-class aircraft carrier the 'USS Carl Vinson' being escorted towards North Korea by South Korean destroyers and F-18 Hornets, as they transit the Western Pacific.
Helicopter footage shows F/A-18 Hornets and Super Hornets from Carrier Air Wing Two – assigned to the 'Carl Vinson' – jetting off from the carrier and buzzing over South Korea's 'Sejong' and 'Yang Manchun' destroyers.
America's Arleigh Burke-class guided missile destroyers 'USS Wayne E. Meyer,' 'USS Michael Murphy,' and 'USS Stethem,' are also present.
The footage follows joint US-South Korean war games which got underway on Saturday amid mounting tensions with Pyongyang.
South Korean Navy officials said the joint exercises were "aimed at deterring North Korea's provocations and strengthening the military readiness of the Korea-US alliance."
The joint naval drills kicked off shortly after US Pacific Command and South Korea's Joint Chiefs of Staff said that Pyongyang had apparently unsuccessfully test-launched a ballistic missile.
The projectile, presumed to be a KN-17 medium-range ballistic missile, reportedly exploded "within minutes" of the launch, US officials told Reuters on condition of anonymity.
The US and South Korea are increasingly worried about Pyongyang's missile tests and military drills.
North Korea says Washington's military buildup and war games with its allies, including Japan, are contributing to tensions in the region and may result in a nuclear war breaking out "at any point."
You can share this story on social media: