North Korea confirms US citizen detained over 'hostile acts'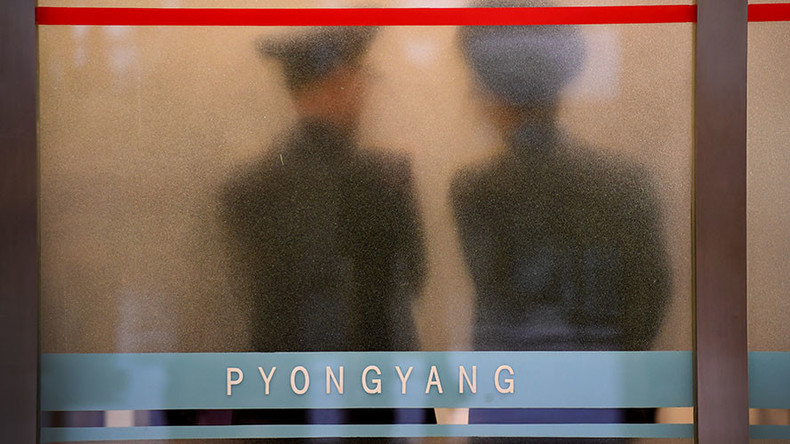 Pyongyang has confirmed that an American citizen was detained in late April over "criminal acts of hostility" targeting the North Korean government.
North Korean officials detained the US citizen, identified as Kim Sang Dok, on April 22 following his interception at Pyongyang International Airport, state-run KCNA news agency reported on Wednesday.
Kim, who also goes by the English name Tony Kim, had been invited as an accounting professor to Pyongyang University of Science and Technology. He is allegedly suspected of "committing criminal acts of hostility aimed to overturn the DPRK" during his latest stay in the country and on previous occasions.
READ MORE: 3rd US citizen arrested, remains detained in N. Korea – report
North Korean state media say that a "detailed investigation" into the case is underway.
Earlier the university's chancellor had said that the academic, who is in his 50s, was arrested at the airport while trying to leave North Korea.
Kim has become the third US citizen currently in detention in North Korea. Out of 10 citizens detained since 2009, two others remain under arrest – Korean-American Christian pastor Kim Tong Chul and college student Otto Warmbier.
Kim Tong Chul, 60, confessed to being paid by South Korea to steal military and state secrets in March 2016. A week before that confession, 21-year-old Warmbier had been sentenced to 15 years' labor for attempting to steal a political banner.
The latest arrest comes amid rapidly increasing tensions between Pyongyang and Washington.
North Korea has recently stepped up missile tests, with three launches – all described as failed by South Korea and Washington – taking place in April and March.
Speaking before the UN Security Council on April 28, US Secretary of State Rex Tillerson stressed that "all options for responding to future provocations must remain on the table, including military action."
In an attempt to deter Pyongyang, Washington has boosted its military presence on the Korean Peninsula, sending a strike group and conducting joint military drills with Japan. US THAAD missiles were also deployed in South Korea, aimed at offering protection from potential attacks from the North.
Last week, North Korea conducted large-scale, live-fire exercises on its eastern coast, just as the US and South Korea were engaged in their annual war games. Pyongyang has warned the US and its allies that their actions on the peninsula could spark a nuclear war.
The escalation of tensions has caused growing concern among Russia and China, which have frequently called on all parties to find a peaceful solution to the situation.
READ MORE: Nuclear war 'closer' with US drills near Korean Peninsula, Pyongyang's media warn