'One-off strike won't make a difference': Hillary Clinton criticizes Trump on Syria, N. Korea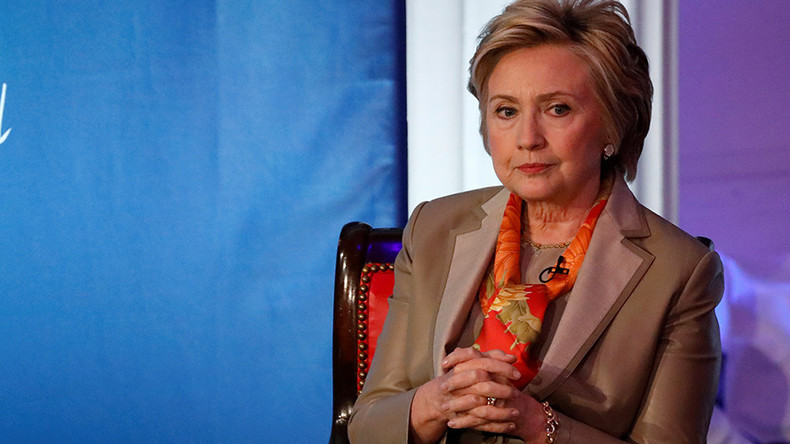 Hillary Clinton admitted at a women's event that she supported the Syrian missile strike, though she said it wouldn't make much difference. She also called Syria and North Korea "wicked problems," taking several jabs at President Donald Trump's foreign policy.
The former secretary of state was the featured speaker at the Women for Women International luncheon in New York City on Tuesday, being interviewed on stage by CNN's Christiane Amanpour. Clinton started with a pointed appeal to Trump.
"I am going to publicly request that this administration not end our efforts making women's rights and opportunities central to American foreign policy and national security," Clinton said.
That request comes a day after an internal Trump administration memo called for ending the Let Girls Learn program, former First Lady Michelle Obama's signature education initiative for girls in developing countries.
Syria is "one of those wicked problems," Clinton said after Amanpour asked her about Trump's decision to launch airstrikes against a Syrian air base after President Bashar Assad's forces allegedly used chemical weapons to attack civilians.
Clinton said she supported the US missile strike, but not publicly because "that wasn't my role." However, she continued, "I am not convinced that it really made much of a difference, and I don't know what kind of potentially backroom deals were made with the Russians."
"There's a lot that we don't really yet fully know about what was part of that strike," she added. "And if all it was was a one-off effort, it's not going to have much of an effect."
Amanpour then asked Clinton about North Korea, which the former secretary of state also described as "one of those wicked problems."
While Trump is right to focus on "a regional effort to basically incentivize the North Korean regime to understand that it will pay a much bigger price… primarily from China, if it pursues this reckless policy of nuclear weapons development" and missiles to deliver them, Clinton believes the president is handling the crisis with North Korean leader Kim Jong Un incorrectly by offering to negotiate "in the absence of a broader strategic framework."
She was quoted as saying during a private speech in 2013 that she had confronted Chinese officials about North Korea, telling them: "So China, come on. You either control them [North Korea] or we're going to have to defend against them." Trumps nominee to be the ambassador to China, Terry Branstad, made similar remarks in his confirmation hearings on Tuesday, saying there are things China can do "diplomatically and economically" to influence North Korea.
Clinton discussed how her husband, President Bill Clinton, negotiated with Kim's father, Kim Jong-il, over the country's plutonium program. The current situation, she said, is a result of President George W. Bush walking away when there was evidence North Korea was cheating, instead of negotiating to get rid of the uranium program, too.
"So negotiations are critical, but they have to be part of a broader strategy, not just thrown out on a tweet some morning that 'hey, let's get together and see if we can't get along, and maybe we can, you know, come up with some sort of a deal,'" Clinton said, referring to Trump's propensity to conduct policy on Twitter. "That doesn't work."
When asked about budget cuts by the Trump administration ‒ specifically to the State Department and the US Agency for International Development (USAID) ‒ Clinton thanked Defense Secretary Jim Mattis for being one of the only voices telling Trump that diplomacy and development matter.
At a National Security Advisory Council meeting at the end of February, Mattis told members: "If you don't fund the State Department fully, then I need to buy more ammunition ultimately."
Clinton expanded on Mattis' remarks, noting, "You cannot talk about pursuing diplomacy and development that will be to the benefit of the United States, to our security, to our values and interests without understanding then that we're left with just one tool in the toolbox, namely the military tool."
"That is a necessary tool, but it should be only one of three. And diplomacy and development should be the first efforts," she continued. "I'm hoping that, because of voices like Jim Mattis and others, that that will begin to influence the administration."
Amanpour asked Clinton about a wide range of issues involving women, dating back to when the then-first lady represented the US at the United Nation's Fourth World Conference on Women in Beijing, China in 1995.
Overall, there's been a lot of progress made on women's rights since 1995, Clinton said, but "have we made enough? No, we haven't."
Echoing her remarks at the Beijing conference that "women's rights are human rights and human rights are women's rights," Clinton said that "part of what I really believe is that women's rights is the unfinished business of the 21st century. There is no more important, larger issue that has to be addressed."