Native Alaskan tribes 'shocked & appalled' by Trump's Arctic drilling executive order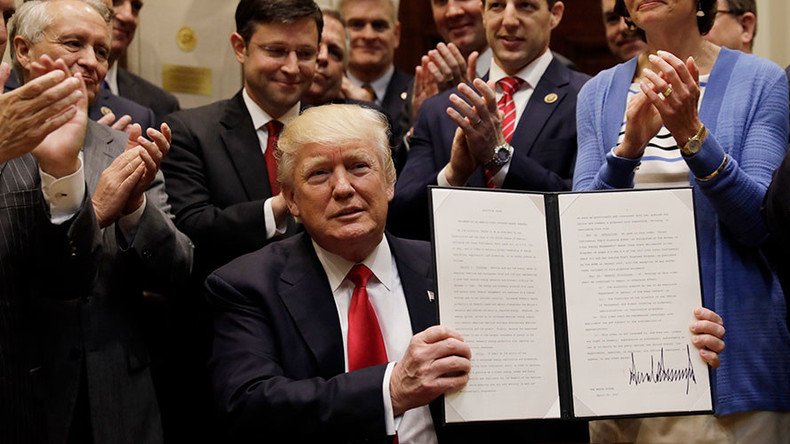 A group representing 40 native Alaskan tribes has severely criticized US President Donald Trump's new executive order that paves the way for oil drilling in the Arctic.
On Friday, Trump signed an executive order aimed at reducing restrictions on oil drilling in the Arctic and Atlantic. Trump said it would create "thousands and thousands" of jobs and "unleash American energy."
The order, called the 'America-First Offshore Energy Strategy', would reverse drilling bans put in place by Barack Obama last year.
READ MORE: Trump to reverse Obama's Arctic & Atlantic drilling ban
It instructs the Interior Department to devise a new development plan for all federal waters off US coasts. The department oversees 1.7 billion acres of the outer continental shelf, which contains an estimated 90 billion barrels of undiscovered oil.
About 94 percent of that is off-limits to drilling due to Obama's ban, which also blocked the sale of new offshore drilling rights in order to preserve coral reefs, marine sanctuaries, and walrus feeding grounds.
The Bering Sea Elders Group, which represents 40 of Alaska's coastal tribes, released a statement slamming Trump's order, saying it removes their say in what the federal government does with the waters they rely on for food.
The tribe noted that Obama's order, titled 'Northern Bering Sea Climate Resilience', created a Bering Sea Intergovernmental Tribal Advisory Council that gave "local Alaskans who use the waters of the Bering Sea every day, a say in how the federal government managed those waters."
However, Trump's order will remove that avenue, through which the tribes could raise concerns about how drilling could affect the coast.
"The Bering Sea Elders Group, that worked long and diligently to protect our 40 tribes along the Northern Bering Sea, are shocked and appalled by the action of President Donald Trump to eliminate the protections extended by President Obama under Executive Order 13754," one of the Elder representatives, Chuck Degnan, said.
Environmental groups, such as the Sierra Club, have also raised concerns about the executive order, while indicating that they will challenge it.
Abolishing Obama's environmental protections was one of Trump's campaign promises last year. As he signed the order, the president said: "Our country's blessed with incredible natural resources, including abundant offshore oil and natural gas reserves, but the federal government has kept 94 percent of these offshore areas closed for exploration and production."
"This deprives our country of potentially thousands and thousands of jobs and billions of dollars in wealth," he added.
You can share this story on social media: