US soldier avoids jail after smuggling $11.5mn of meth into S. Korea
Published time: 28 Apr, 2017 17:23
Edited time: 29 Apr, 2017 19:00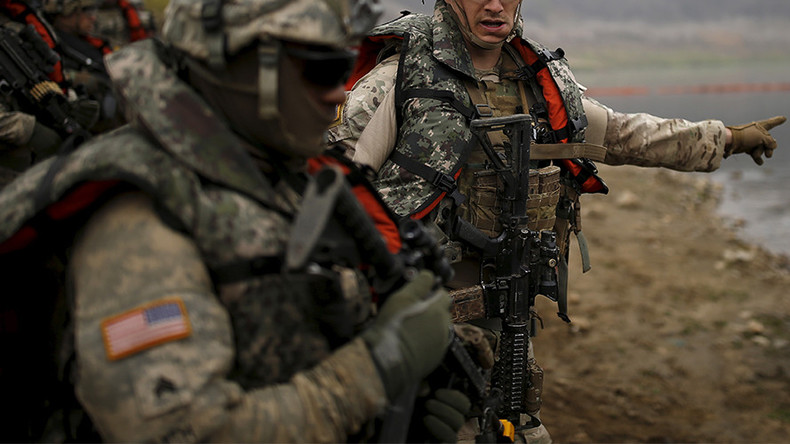 A US Army soldier was given a five-year suspended sentence, but no jail, by a South Korean court for his part in smuggling more than 9lbs (4kg) of methamphetamine into South Korea through the US Army postal system.
Dominique Graham, a private first class based at Camp Stanley in Uijeongbu, was accused of agreeing to receive cookie boxes of meth sent from Los Angeles to another solider via the Army Post Office. The drugs were discovered by customs authorities at the Incheon International Airport in October, according to Stars and Stripes.
On Wednesday, a three-judge panel in Uijeongbu sentenced Graham to three years in prison with a five-year suspension, meaning Graham will avoid incarceration if he remains in good graces of South Korean law in that period.
The court found that Graham had agreed to receive the $11.5 million-worth of meth from a suspected drug ring in exchange for more than $3,000. Another US solider, Pfc. Julian Bean, was also charged in the case but was acquitted based on lack of evidence.
Graham, a solider with the 2nd Infantry Division, could still be punished by the US military. The 2nd Infantry Division said Graham "has been released back to his chain of command for further disposition."
While it could have been much harsher in its punishment, the South Korean court said it took into consideration Graham's military service, as well as the fact that the drugs were never circulated in country, that he only offered access to an Army Post Office box and his lack of criminal history.
"The crime of drug smuggling should be punished severely due to its negative effect on society. But the court determined the sentences for the U.S. soldier with consideration that the drug was not circulated and he has served faithfully so far," the court said in its decision, according to Yonhap News Agency.
Graham's defense claimed the soldier did not know the drugs would be in the package, sent by a man they identified only as "Jason."
The court said Graham had previously agreed to receive packages from the same man for at least $900, an amount that should have raised suspicion. Furthermore, the judges said Graham pleaded with Bean to lie about the mailing once they were arrested.
"It would run counter to Graham's words and actions that Graham believed the post contained daily essentials," the judges said in the ruling, Stars and Stripes reported.
The attempted smuggling of meth represents the largest amount of drugs known to have been sent through the Army Post Office, according to the Anadolu Agency.
A different drug ring case at a separate US military base in South Korea is currently under investigation. Last month, two American soldiers were indicted for their part in smuggling a similar amour of meth to Camp Humphreys near Pyeongtaek. South Korean prosecutors said the two cases could be linked, Stars and Stripes reported.
The Army says the 2nd Infantry Division in South Korea "is the last remaining permanently forward-stationed division in the US Army," and "deters aggression and maintains peace on the Korean Peninsula."
To the discontent of locals, the heavy US military presence in South Korea has deployed in recent days its THAAD anti-missile complex as part of attempts to intimidate North Korea and counter Pyongyang's nuclear capabilities.