US, S. Korea stage powerful military drills amid rising tensions with Pyongyang (VIDEO)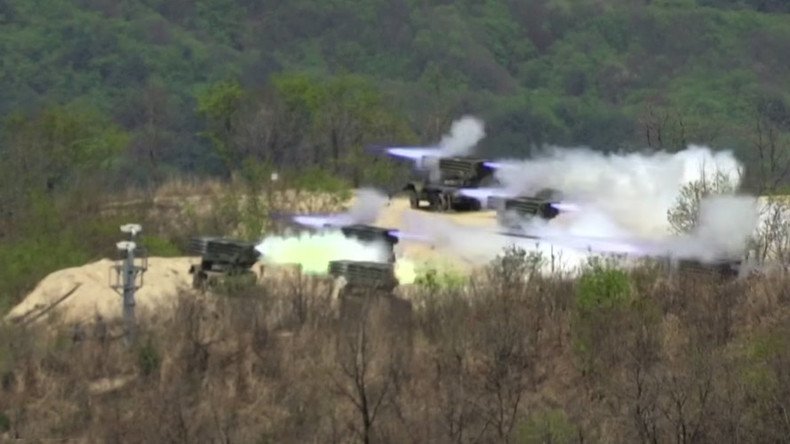 The US and South Korean militaries have taken part in a combined firing drill as part of joint exercises amid increased tensions with Pyongyang. It comes just one day after the North launched its own artillery drill.
More than 2,000 South Korean and American troops were involved in the Wednesday drills in Pocheon, South Korea, according to Yonhap news agency.
The war games took place at Seungjin Fire Training Field, some 30km south of the Demilitarized Zone (DMZ) dividing the two Koreas.
READ MORE: 'Status quo in N. Korea unacceptable': Trump scolds UNSC to up payments, wants more sanctions
The exercises, which lasted 45 minutes, included some 100 artillery pieces, 90 armored vehicles and 50 aircraft, according to South Korea's Ministry of Defense.
Footage from the scene shows trails of color streaked across the sky as fighter jets showcase their force, as well as firing tanks, huge clouds of smoke, and soldiers dropping out of helicopters.
The exercises also included two AH-64E Apache Guardian attack helicopters from the South Korean Army, which fired aerial rockets and ammunitions from chain guns at mock targets, according to Yonhap.
Four M1A2 Bradley fighting vehicles from the US military also fired artillery rounds while speeding down mountain roads.
Around 90 battle tanks and armored vehicles were involved, according to South Korea's Ministry of National Defense.
The drills were followed by firing the US M270 Multiple Launch Rocket System (MLRS).
The Wednesday event was one of the largest integrated live-fire drills between the two allies in recent years.
It came just one day after North Korea staged its own military drill in Wonsan, to mark the founding of the country's army. The exercise consisted of between 300 and 400 long-range artillery pieces, Yonhap reported, citing a government source.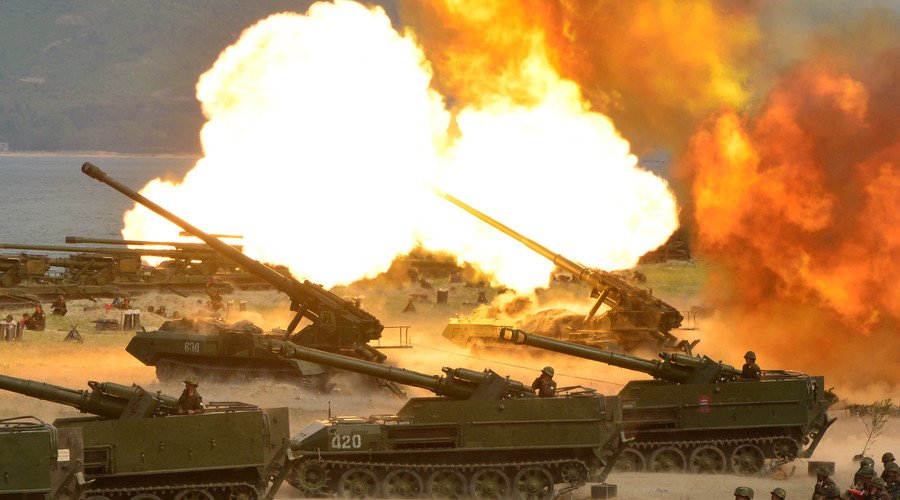 North Korea called the drills the largest ever to be hosted by the country, while state media reported that leader Kim Jong-un personally observed the exercises.
The drills reportedly included submarine torpedo-attacks on mock enemy warships.
"There is no limit to the strike power of the People's Army armed with our style of cutting-edge military equipment, including various precision and miniaturized nuclear weapons and submarine-launched ballistic missiles," the official Rodong Sinmun newspaper said in a front-page editorial.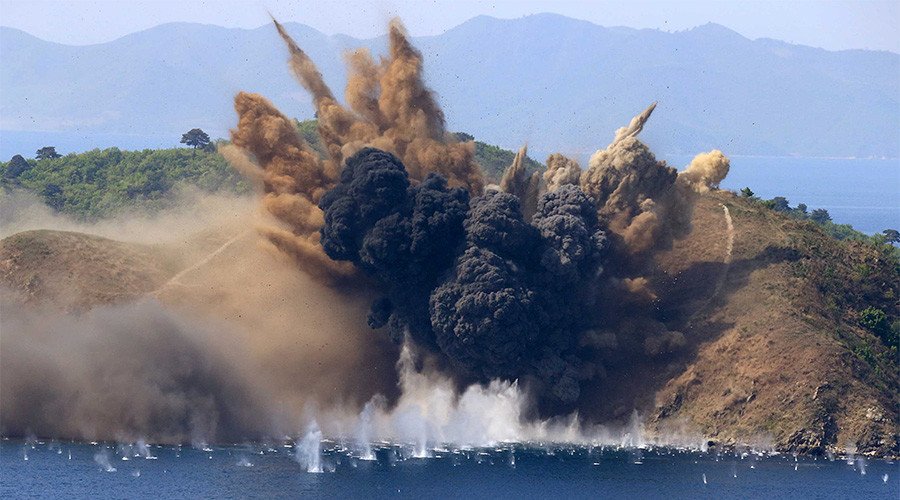 Meanwhile, tensions continue to escalate between Pyongyang and Washington, with US President Donald Trump continuing to take a hardline stance against North Korea and sending an aircraft carrier strike group to the Korean Peninsula.
North Korean state media has responded to Washington's moves by stating that Pyongyang is ready to sink the carrier, claiming its deployment was a "foolish military provocative act."
Meanwhile, the Chinese government has called on all sides to show restraint and maintain stability and security in the region.
"The most urgent task at the moment is the resumption of negotiations and all sides in the conflict must take part in this," Reuters reported Chinese Foreign Minister Wang Yi as saying from Berlin.
"Security and stability is quite fragile and there is a great danger that a new conflict, or incidents could happen at any time. Therefore we call all sides to be restrained and to avoid actions or words that could lead to new provocations."
You can share this story on social media: