Massive powwow converges in aftermath of DAPL protests (PHOTOS, VIDEOS)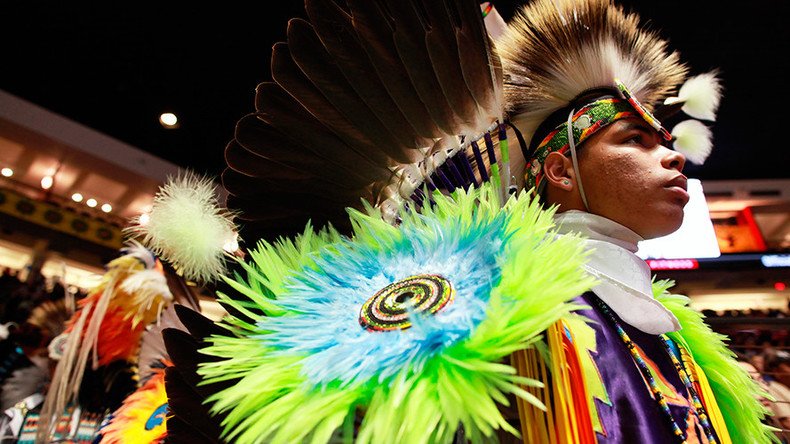 The Gathering of Nations Powwow, known as the "Mecca of Indian Country," is hosting tens of thousands of Native Americans, bringing together "water protectors" from the nationwide protests against the Dakota Access Pipeline.
The 34th annual Gathering of Nations began Thursday at the Expo New Mexico in Albuquerque. The venue, which is also home to the New Mexico State Fair, will host the tens of thousands of visitors who attend the event every year.
"It's going to have its growing pains. It's a change," Larry Yazzie, the event's official announcer, told the Associated Press. "But I think a lot of people are excited to see the new place, and we will have a lot of dancers ready to compete."
Yazzie told AP that the gathering is intended to be non-political, but they will acknowledge the "water protectors" who attend the event.
"There will be plenty of people there who have been to North Dakota," Yazzie said. "The spirit will be there."
At the peak of the protests against the Dakota Access Pipeline, thousands of Native Americans traveled to North Dakota. Protesters set up camp where many lived for months. Several hundred "water protectors" were arrested during that time. In February, the protests ended after President Donald Trump ordered construction to resume on the pipeline.
The Gathering of Nations Powwow officially started in 1984 in a small arena at the New Mexico Fairgrounds. The event then moved to the University of New Mexico Arena for the next 30 years, where they maintained full capacity for years. In 2016 there were reportedly 80,000 visitors at the event.
This year, the event returns to the Expo New Mexico for the first time since 1986.
The event will kick off with the Miss Indian World contest and continue throughout the weekend with singing and dancing competitions featuring over 3,000 participants from hundreds of tribes across the US. The event will also have musical performances, an Indian Trader's market and a Native food court.
For the first time, the gathering will be sponsored by Ultra Health, a medical marijuana developer and dispenser. There will be a cannabis and help workshop held by the company on Thursday, where visitors can learn about cultivation and dispensary operations on Native American lands.
You can share this story on social media: