Obama secretly freed dangerous Iranians in historic prisoner swap deal – journalist investigation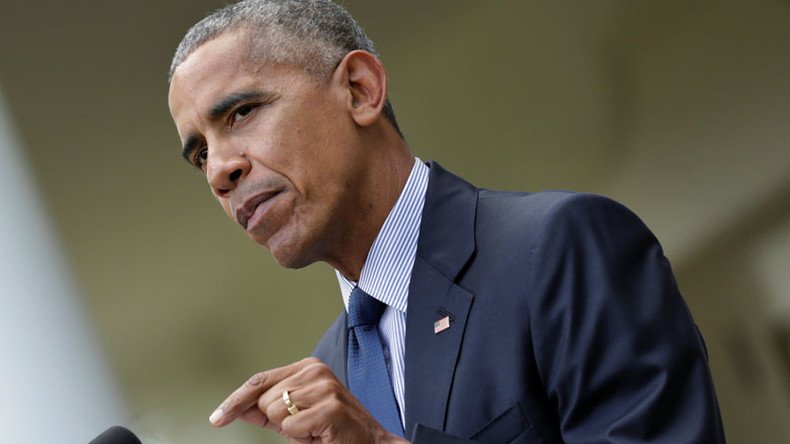 When Barack Obama signed a prisoner swap deal with Iran, he said the released Iranians were "not charged with terrorism or any violent offenses." However, a Politico investigation claims that some were national security threats – a fact Obama ignored to keep Tehran on board with a nuclear deal.
Speaking to the American people on January 17, 2016, then-President Barack Obama called the prisoner swap – which saw the release for seven Iranians for four Iranian-Americans imprisoned by Tehran – a "one time gesture" to Iran.
He said the Iranians being released were "civilians" who had not been charged with "terrorism" or any "violent offenses."
A Politico investigation has, however, revealed a very different story – that Obama allegedly downplayed just how dangerous some of the "civilians" actually were. In fact, some had even been accused by Obama's own Justice Department of posing threats to US national security.
Politico cited interviews with "key participants at all levels of government" and an "extensive review" of court records and other documents as its sources for the investigation.
Of the seven Iranians released, three were allegedly part of an "illegal procurement network supplying Iran with US-made microelectronics with applications in surface-to-air and cruise missiles."
Another was serving an eight-year sentence for conspiring to supply Tehran with satellite technology and hardware. US officials even dropped their demand for $10 million which a jury said the aerospace engineer illegally received from Iran, the report says.
But the alleged dodgy dealings went far beyond those who were released as part of the landmark prisoner swap. According to Politico, the Justice Department dropped charges and international arrest warrants against 14 other men, all of whom were fugitives.
While the administration did not disclose those fugitives' names or what they had been accused of, an unattributed, 152-word statement cited by Politico noted that the US "also removed any Interpol red notices and dismissed any charges against 14 Iranians for whom it was assessed that extradition requests were unlikely to be successful."
READ MORE: 'Iran complies with nuclear deal but sponsors terrorism' – Tillerson on Trump's review order
According to the investigation, three of the fugitives who received a get-out-of-jail-free card had allegedly sought to lease Boeing aircraft for an Iranian airline that authorities say had supported Hezbollah, which the US considers a terrorist organization.
A fourth, Behrouz Dolatzadeh, was reportedly charged with conspiring to buy thousands of US-made assault rifles and illegally import them into Iran.
Meanwhile, a fifth fugitive by the name of Amin Ravan was charged with smuggling US military antennas to Hong Kong and Singapore for use in Iran. The US government also believes he was part of a procurement network providing Tehran with high-tech components for an incredibly deadly type of IED used by Shia militias to kill hundreds of American troops in Iraq.
Referring to a sixth fugitive, Seyed Abolfazl, as "the biggest fish," Politico revealed that he had been charged with being part of a conspiracy that procured thousands of parts with nuclear applications for Iran via China, from 2005 to 2012. The scheme included hundreds of US-made sensors for uranium enrichment centrifuges in Iran.
Those centrifuges and their apparent progress had been what prompted nuclear talks between Iran and six world powers including the US.
In addition, Justice and State Department officials denied or delayed requests from prosecutors and agents to lure some key Iranian fugitives to countries where they could be arrested, according to Politico.
Officials from both departments also reportedly slowed down efforts to extradite some suspects already in custody overseas, according to current and former officials and others involved in the counterproliferation effort.
Even as far back as autumn 2014 – long before the prisoner swap happened – Obama administration officials reportedly began slowing down on significant investigations and prosecutions of Iranian procurement networks operating in the US, according to the investigation.
READ MORE: Iran shows off newest long-range missiles at Army Day parade
David Hall, a former Justice Department counterproliferation prosecutor, told Politico that Obama's actions have "erased literally years – many years – of hard work, and important cases that can be used to build toward other cases and even bigger players in Iran's nuclear and conventional weapons program."
Politico still credited Obama's desire to keep Iran on board with the historic 2015 nuclear deal between Tehran and six world powers.
Meanwhile, Obama's efforts to keep Iran on track with the nuclear deal may have proven futile, with President Donald Trump pledging to crack down on Tehran's nuclear and ballistic missile programs.
Last week, US Secretary of State Rex Tillerson announced a government-wide review of US policy towards Iran, citing "alarming and ongoing provocations that export terror and violence, destabilizing more than one country at a time."
Trump has previously called the nuclear deal "disastrous" and the "worst deal ever negotiated," threatening to dismantle the accord.
In response, the Iranian defense minister has said the possibility of Trump taking a "different path" regarding the deal has led to "unease," making clear that US ally Israel and smaller Gulf states would be destroyed if Trump starts a war with Iran.
You can share this story on social media: