Tillerson warns 'unchecked Iran' could follow path of North Korea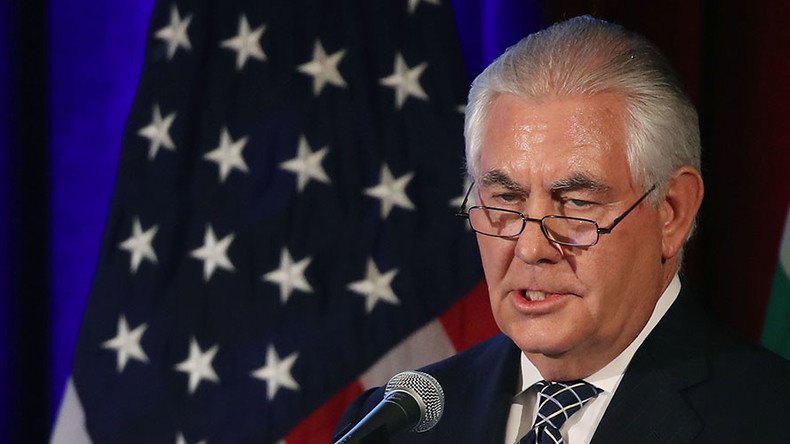 The Trump administration is reviewing US policy towards Iran, Secretary of State Rex Tillerson announced, accusing Tehran of sponsoring terrorism and violence and destabilizing numerous countries in the Middle East.
"Whether it be assassination attempts, support of weapons of mass destruction, deploying destabilizing militias, Iran spends its treasure and time disrupting peace," Tillerson said, adding, "An unchecked Iran has the potential to travel the same path as North Korea ‒ and take the world along with it."
"Iran is the world's leading state sponsor of terrorism, and is responsible for intensifying multiple conflicts and undermining US interests in countries such as Syria, Yemen, Iraq and Lebanon, and continuing to support attacks against Israel," Tillerson told reporters at the State Department on Wednesday.
"An unchecked Iran has the potential to travel the same path as North Korea ‒ and take the world along with it," Tillerson added.
He accused Iran of continuing to support the "brutal Assad regime" in Syria with weapons and money, as well as Revolutionary Guard troops. Tehran also supports the Houthis in Yemen, threatening the southern border of Saudi Arabia, while the Iranian-sponsored Quds force has been "undermining security in Iraq for years," Tillerson said.
Iran also "maintains a long-standing hostility towards Israel, providing weapons, training and funding to Hamas and other Palestinian terrorist organizations," said the secretary of state, citing reports that Iran displayed a missile inscribed "death to Israel" during a military parade on Tuesday.
"A comprehensive Iran policy requires that we address all of the threats posed by Iran, and it is clear there are many," Tillerson said.
The 2015 nuclear agreement between Iran and the six world powers "fails to achieve the objective of a non-nuclear Iran ‒ it only delays their goal of becoming a nuclear state," according to Tillerson. "This deal represents the same failed approach of the past that brought us to the current imminent threat that we face from North Korea."
"The Trump administration has no intention of passing the buck to a future administration on Iran. The evidence is clear: Iran's provocative actions threaten the United States, the region and the world," the secretary of state added, vowing to "meet the challenges Iran poses with clarity and conviction" once the policy review is done
Earlier on Wednesday, Defense Secretary James Mattis also accused Iran of seeking to destabilize the Middle East.
"Everywhere you look if there is trouble in the region, you find Iran," Mattis told reporters in Riyadh, after meeting senior Saudi officials.
"We will have to overcome Iran's efforts to destabilize yet another country and create another militia in their image of Lebanese Hezbollah," he added, "but the bottom line is, we are on the right path for it."
Mattis is visiting Saudi Arabia, Egypt, Israel, Qatar and Djibouti as part of a week-long Middle East tour.
You can share this story on social media: