Police robot blows up suitcase in suspected bomb incident in Kissimmee, Florida
Published time: 21 Apr, 2017 16:00
Edited time: 22 Apr, 2017 18:07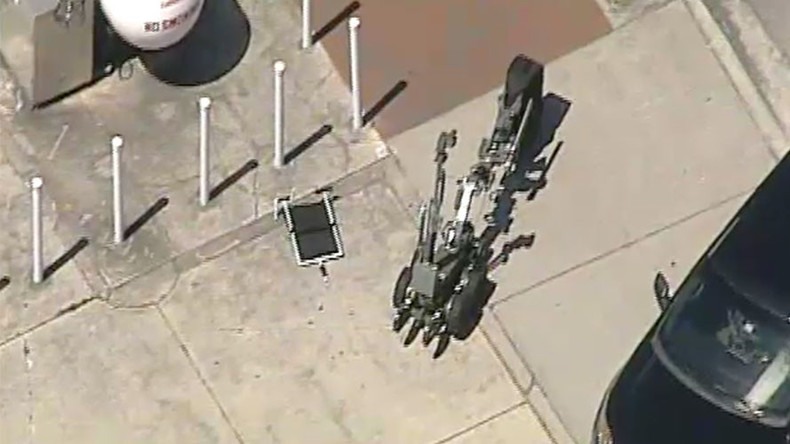 A bomb disposal robot blew up a suspicious suitcase left near a propane tank in Kissimmee, central Florida. Businesses were evacuated after a police alarm.
A bomb squad investigated the suspicious package which was left in the downtown area of Broadway on Friday morning. The town is 16 km (10 miles) away from Disney World.
A bomb disposal robot was sent in to take an x-ray of the abandoned suitcase.
It returned with the x-ray to bomb squad technicians, who are located a block away from the propane tank.
Detectives went over the x-rays to determine what's in the case.
Two bomb squad technicians walked towards the suitcase with detonation wire, according to WKMG, Orlando.
The detonation wire was placed down in the middle of the street, about a stone's throw away from the suitcase, which is still located near the propane tank.
The bomb disposal robot then dragged the suitcase away from the propane tank, and placed it near the detonation wire.
The suitcase was then blown up releasing what looks like clothing and paper.
According to Kissimmee police, the person who left the package "openly stated it was a bomb."
The package appears to be a large black suitcase.
Police told people to evacuate from the back of their buildings.
Detectives are talking to the person who first alerted them about the alleged bomb.
Police officers are telling people to avoid the area.