'That's the sound of Putin laughing at us': Democratic super PAC releases bizarre attack ad (VIDEO)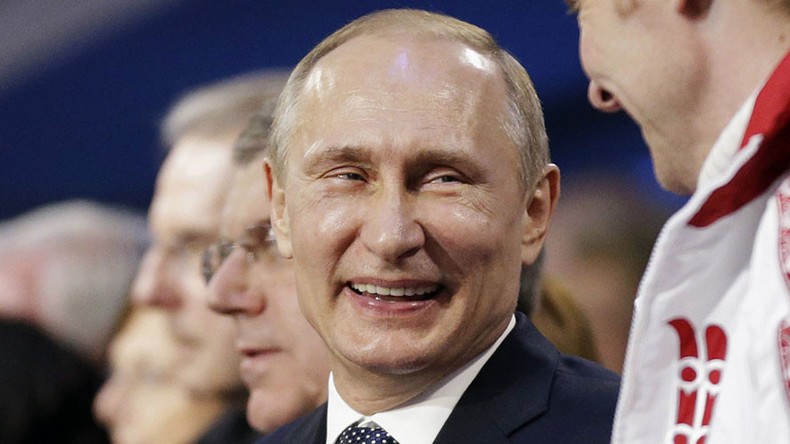 A Democratic funding group has released a bizarre new ad that features a laughing 'Vladimir Putin', in an unlikely bid to pressure Republicans into supporting an inquiry into President Donald Trump's alleged ties with Russia.
The commercial comes from the super PAC American Bridge 21st Century, who reportedly spent some $140,000 on three radio ads targeting "vulnerable" Republican senators Will Hurd, Martha McSally and John Katko for not supporting an independent commission to investigate Trump's "dangerous ties" to Russia.
READ MORE: US & Russia 'will work out fine': Trump promises 'lasting peace'
The ads feature a laughing, supposedly Russian, voice saying "Vladimir Putin and all Russians are laughing at America."
An English-speaking narrator then adds: "That's the sound of the Russians and Vladimir Putin laughing at us. They're getting away with undermining our democracy."
Dedicated to "holding Republicans accountable," the group cites the records of Trump's former campaign manager Paul Manafort and former National Security Adviser Michael Flynn as reasons for the investigation.
READ MORE: Putin: Trust between US & Russia degrading under Trump
"The country overwhelmingly wants an independent commission investigating the growing scandal surrounding Donald Trump's ties to Russia and we're going to hold Republicans accountable for standing in the way," said American Bridge President Jessica Mackler in a statement about the ad campaign.
"Republicans who refuse to put country ahead of party are doing so at their own peril," added Mackler.
The 60-second clips, released on national radio stations Thursday, will run for a week.