Diet soda triples stroke & dementia risk compared to normal daily cola habit – study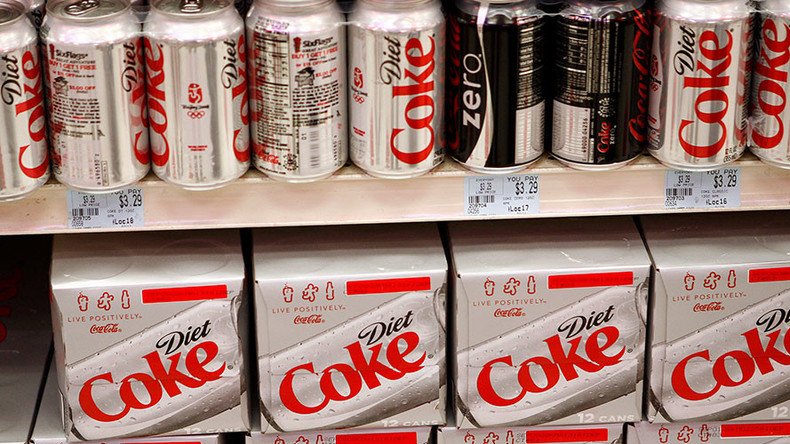 Diet soft drinks might not actually be better for you, as a recent study finds drinkers face a higher risk of stroke and dementia just for the taste of the real thing.
A team of scientists from Boston University School of Medicine studied nearly 4,400 adults and found those who consume one artificially-sweetened beverage (ASB) a day have three times the risk of stroke and dementia than those who consume sugar sweetened beverages (SSB), according to a study published Thursday in the American Heart Association's journal Stroke.
The study used data provided by the Framingham Heart Study, which had the participants fill out a detailed questionnaire on their food and drink intake in the 1990s. Ten years later, scientists found that the adults who had one more diet drink a day were 2.9 times more likely to develop dementia and three times more at risk of strokes compared to those who consumed less than one a week.
"We found that those people who were consuming diet soda on a daily basis were three times as likely to develop both stroke and dementia within the next 10 years as compared to those who did not consume diet soda," Matthew Pase, lead author of the study, told NBC News.
ASBs typically contain synthetic sweeteners like aspartame and saccharin. These substances are much more potent than sucrose sugar and only need a small amount to generate the sensation of sweetness.
The study did not find any link between sugar-sweetened beverages and stroke or dementia, although they did not recommend those drinks should be consumed either.
"Although we did not find an association between stroke or dementia and the consumption of sugary drinks, this certainly does not mean they are a healthy option," Pase said, according to the Daily Mail. "We recommend that people drink water on a regular basis instead of sugary or artificially sweetened beverages."
Pase said that they did find other health factors associated with those who regularly consumed sugar-sweetened beverages, such as accelerated brain aging and low memory function.
The study also found that those who regularly consumed ASBs were also more likely to have diabetes, although the scientists were not able to form a cause-and-effect link between the two. It is possible, they said, that "people with diabetes mellitus were simply more likely to consume diet beverages."
In response to the study being published, the American Beverage Association issued a press release, stating that extensive studies have shown that ASBs are "safe for consumption."
"While we respect the mission of these organizations to help prevent conditions like stroke and dementia, the authors of this study acknowledge that their conclusions do not – and cannot – prove cause and effect," the press release reads. "And according to the National Institutes of Health (NIH), many risk factors can increase an individual's likelihood of developing stroke and dementia including age, hypertension, diabetes and genetics."
The study was not able to draw a concrete causal link between ASBs and a heightened risk for stroke and dementia, however scientists were able to find a strong association between the two.
"We have little data on the health effects of diet drinks and this is problematic because diet drinks are popular amongst the general population," Pase said, according to CNN.
"More research is needed to study the health effects of diet drinks so that consumers can make informed choices concerning their health," he said.
The scientists said they do not understand the mechanisms yet and reported several inconsistencies in the study. However, they speculate that artificially sweetened beverages could be affecting the blood vessels, eventually triggering strokes and dementia.
Ralph Sacco, a co-author of the study, released an editorial published alongside the study in the journal Stroke on Thursday, saying that both ASBs and SSBs are "hard on the brain."
Sacco says that ASBs "may impact cerebrovascular health," adding that "ASB consumption may occur because of weight gain but could also exacerbate these conditions."
This marked the first study to report any association between daily intake of artificially sweetened soft drinks and an increased risk in dementia.
You can share this story on social media: