ExxonMobil seeks sanctions waiver to keep Russia oil deal alive – report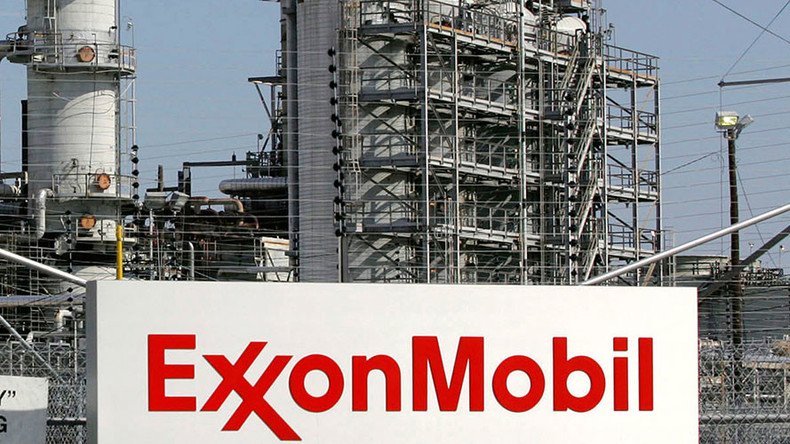 ExxonMobil has applied for a waiver from US sanctions against Russia to keep a claim to Black Sea oil exploration rights negotiated in 2012, the Wall Street Journal reported. Exxon's former CEO Rex Tillerson is now US secretary of state.
The Journal reported on the application Wednesday afternoon, citing "people familiar with the matter," who remain anonymous. The Treasury Department told the paper that it did not comment on waiver applications, while Exxon said it would not discuss government deliberations.
It is unclear whether Exxon filed the claim with the Treasury Department's Office of Foreign Assets Control before Tillerson was appointed secretary of state by President Donald Trump, the WSJ said.
Tillerson has recused himself from any matters involving Exxon for two years, and will not be involved in any decisions by the US government involving the company during that period, the paper reported, citing a State Department spokesman.
Trump's critics pounced on the report as proof of their allegations about the president's improper financial ties with Russia.
In 2012, Tillerson negotiated a deal with Russia's oil and gas giant Rosneft worth as much as $500 billion in joint investments, to explore deposits in the Black Sea, the Arctic and Russia's Far East. Much of the deal was put on ice by the sanctions imposed by the Obama administration in 2014, after Crimea voted to rejoin Russia following a violent coup by US-backed political forces in Ukraine.
According to the Wall Street Journal, Exxon is asking for a sanctions waiver because its exploration rights in the Black Sea will soon expire if the company does not act.
Some of its European competitors already have sanctions waivers. Norway's Statoil ASA is drilling in the Barents Sea, while Italy's Eni SpA is allowed to operate in the Barents and Black seas, the Journal reported.
Exxon has drilled off the coast of Romania, and holds a license for drilling in Ukrainian waters. There may be 30 billion barrels of oil under the Black Sea, according to estimates from Russia, Romania and Turkey.
The company was previously given a waiver to safely wrap up exploration of a well in the Arctic, the Journal reported. Those operations were completed in October 2014.
Russia has signaled its readiness to restore good relations with the US, blaming their breakdown on the Obama administration's hostility.
"As President Putin repeatedly stressed, we are ready to go our part of the way for the recovery of our relations with the United States," Foreign Minister Sergey Lavrov told the Austrian magazine Profil in February. "Their degradation in recent years is not our fault but a result of purposeful actions of the previous administration in Washington. For our part, we have always stayed open to development of predictable cooperation, based on the principles of equality, mutual respect and consideration of each other's interests."
You can share this story on social media: