Anti-Russia 'emotional extremism' in US media may harm future relations – Putin's spokesman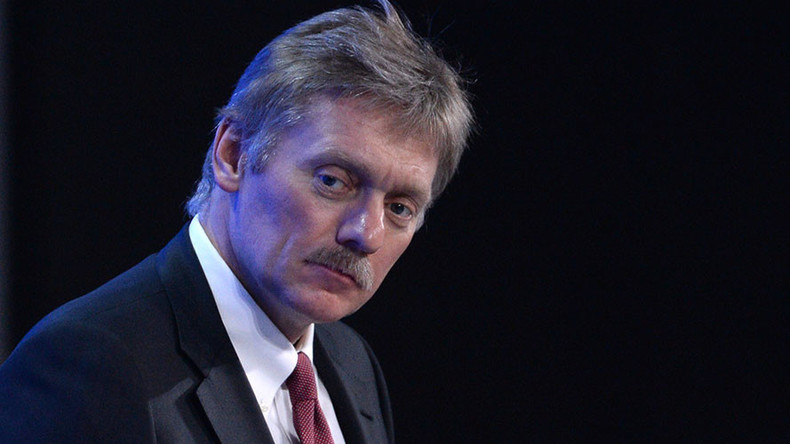 The demonization of Russia fanned by US officials and the media is going to have a long-lasting negative impact on US-Russia relations, Kremlin's spokesman Dmitry Peskov told CNN, dismissing any claims of Russia meddling in US politics.
In an interview to CNN on Monday, Peskov reiterated that Moscow does not have "the slightest intention" to play any role in US internal affairs, including in its presidential elections.
Moreover, those who think that Russia is capable of compromising the elections and manipulating US politicians make the US look like a "weak country," he said.
"It's high time for someone in the States to think, 'Are we that weak that a country can interfere in our domestic affairs and influence our electoral system?'" Peskov said, calling such a scenario "unimaginable."
The anti-Russian narrative, which certain US media and officials continue to peddle, is stirring up "hysteria" that is "doing lots of harm to the future of our bilateral relations," Peskov stressed.
According to Peskov, the aim of this demonization campaign is to "make a toxic country out of Russia, to make a toxic…ambassador out of Russia's ambassador," he told CNN, branding what is happening "emotional extremism."
While Russian-US relations are currently at one of their lowest points in the post-Cold War period, Moscow hopes that, in the long run, they will get back on track.
READ MORE: Pursuing Cold War against Russia is threat for Europe – Le Pen
"We have to be sober, let's come to our senses," he urged, noting that Russia wants to see in the US "a predictable partner" and "a predictable vis-a-vis for dialogue."
However, one should not expect the process of reviving ties to be complete overnight, Peskov said, calling for "Chinese patience" to be employed in this regard.
"Let's be at least like our Chinese friends. They think about tens of years, hundreds of years, so inevitably we'll have our relationship normalized," he said.
READ MORE: Trump asks Congress to establish whether Obama administration abused investigative powers in 2016
Russia's alleged role in the hacking of the Democratic National Committee (DNC) email services to ultimately sway the vote in favor of Donald Trump – a claim Moscow strongly denies – as well as alleged ties of Trump to Moscow, have been extensively covered by the US media during the election campaign.
After Trump's inauguration in January, the speculation over Kremlin's hand in his stunning victory in November have not only not faded but were invigorated by the newly emerged accusations stemming from Trump's administration officials' contacts with the Russian ambassador to the US, Sergey Kislyak.
Following media reports of discussing sanctions with Kislyak in December, National Security Advisor Michael Flynn stepped down amid the mounting pressure on the Trump administration. The leaked contents of his conversation with Kislyak contradicted Flynn's earlier report to Vice President Mike Pence, in which he insisted he had not discussed the issue with the Russian diplomat.
Trump himself, however, took issue with the fact that such "illegal leaks" were possible in the first place, calling the disclosure of confidential information by unnamed Washington officials "the real story."
Contacts with Kislyak may also cost Trump's Attorney-General Jeff Sessions dearly. The former senator reportedly met the Russian ambassador twice in 2016 but failed to mention the fact of his meetings during his confirmation hearing in Senate in January. This led to the House Minority Leader Nancy Pelosi accusing Sessions of lying under oath and demanding his immediate resignation.
In turn, Trump jumped to Sessions' defense, describing the situation as a "witch hunt" based on "illegal leaks of classified and other information."
READ MORE: Trump asks Congress to probe 'pervasive leaks' of classified info
Russian Foreign Minister Sergey Lavrov said that the media campaign around Sessions is resembling "a witch hunt or the days of McCarthyism," noting that if the approach by the US media was applied towards US Ambassador to Russia John Tefft, "we could see quite an amusing picture."
You can share this story on social media: