'Like McCarthyism': Lavrov slams US 'witch hunt-like' scrutiny of Russian ambassador's contacts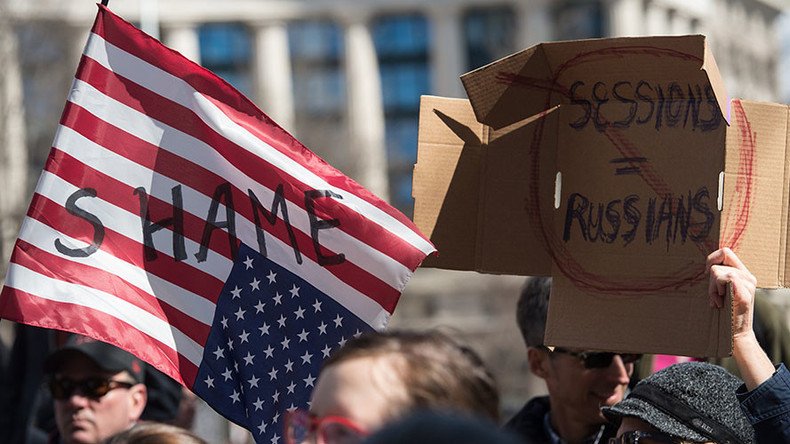 With Russian Ambassador to the USA Sergey Kislyak's contacts with members of the Trump administration under scrutiny, Moscow won't apply a tit-for-tat approach to US Ambassador to Russia John Tefft, Foreign Minister Sergey Lavrov promised.
Lavrov said the whole situation resembled the days of McCarthyism.
Kislyak recently found himself under the US media spotlight with reports of his communications, first with former National Security Advisor Michael Flynn and then with Attorney-General Jeff Sessions.
After Wednesday reports saying Sessions had met Kislyak twice in 2016, but did not disclose the contacts during his Senate confirmation testimony, a CNN article said that "current and former US intelligence officials have described Kislyak as a top spy and recruiter of spies."
According to Lavrov, the situation developing around Kislyak and his contacts is reminiscent of "witch hunt."
"I can refer to a quote spread in the media today: all of this looks very much like a witch hunt or the days of McCarthyism, which we long thought have passed in the US, a civilized country," Lavrov said.
On Thursday, President Donald Trump described the scandal around Sessions as "a total witch hunt."
...is all of the illegal leaks of classified and other information. It is a total "witch hunt!"

— Donald J. Trump (@realDonaldTrump) March 3, 2017
READ MORE: 'Stop spreading lies & fake news,' Russian FM spokeswoman tells CNN reporter
"Kislyak is accused of talking to American politicians who were in opposition to the administration of then-President Barack Obama," Lavrov said. "That is the essence of these accusations, to be honest."
"We don't want to and we won't ape" the American approach towards Kislyak, Lavrov said.
"If such a principle has been applied to scrutinize activity of John Tefft and his contacts, we could see quite an 'amusing' picture," Lavrov said.
The minister noted that ambassadors are appointed to maintain relations with the host country.
"Relationships are maintained in the form of meetings, talks, contacts with both executive officials [from the current administration] and with politicians, public figures, non-governmental organizations. This practice has never been disputed," Lavrov said.
READ MORE: Sessions recuses himself from Trump probes, rejects perjury claims
Lavrov's statement comes in response to the uproar in the US over a report in the Washington Post claiming that Sessions spoke to Kislyak twice in 2016. The report prompted House Minority Leader Nancy Pelosi to demand Sessions' resignation for "lying under oath" during the hearings.
Sessions denied any wrongdoing in meeting with the Russian ambassador, saying the two brief encounters had nothing to do with the presidential campaign. He recused himself from any investigations into the campaign, however.
The attorney-general is not the first official in the Trump administration who faces allegations of having contacts with Russian officials. Earlier, Flynn stepped down as national security advisor after being accused by the media of discussing sanctions on Russia with Kislyak. Both he and the Russian Embassy denied the discussion ever took place.
On Thursday, Kremlin spokesman Dmitry Peskov said he is unaware of any such talks between Sessions and Kislyak, adding that establishing working contacts with host nation's executive and legislative branches is an inherent part of an ambassador's job.
"The more such meetings are being held by an ambassador, the more efficient he is. And this applies to every ambassador," Peskov stressed, adding that Tefft "has plenty of contacts with Russian MPs and it is quite normal."
You can share this story on social media: