US House intel panel approves scope of probe into 'Russian activities in US elections'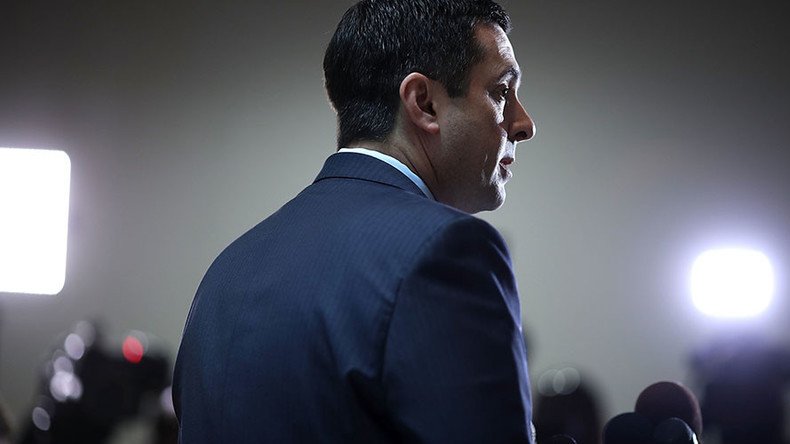 The House Intelligence Committee has agreed on parameters of its investigation of alleged Russian meddling into the 2016 presidential election. Without naming President Donald Trump in its announcement, the panel said it would look into "links between Russia and individuals associated with political campaigns or any other U.S. Persons."
House Intelligence Chairman Devin Nunes (R) and ranking member Rep. Adam Schiff (D), both of California, agreed on the terms of the investigation, according to an announcement Wednesday evening.
Ds & Rs on House Intel have now committed to investigate all aspects of Russian active measures including any collusion with Trump campaign. pic.twitter.com/RwDusy2JOB

— Adam Schiff (@RepAdamSchiff) March 2, 2017
The statement listed four queries:
"What Russian cyber activity and other active measures were directed against the United States and its allies?"
"Did the Russian active measures include links between Russia and individuals associated with political campaigns or any other U.S. Persons?"
"What was the U.S. Government's response to these Russian active measures and what do we need to do to protect ourselves and our allies in the future?"
"What possible leaks of classified information took place related to the Intelligence Community Assessment of these matters?"
The committee's probe will consist of interviews, witness testimony, and a "review all reporting underlying the Intelligence Community Assessment (ICA) 'Russian Activities and Intentions in Recent US Elections,'" the announcement said.
Earlier Wednesday, the Associated Press reported that the Trump administration and staff had been instructed by White House attorneys to maintain records that could be relevant to such an investigation.
US media reports of Trump links to Russian intelligence 'laughable, cite no facts' – Kremlin
Late Wednesday evening, House Minority Leader Nancy Pelosi (D-California) released a statement calling on US Attorney General Jeff Sessions to resign over statements he made to the Senate during his confirmation process.
"Jeff Sessions lied under oath during his confirmation hearing before the Senate. Under penalty of perjury, he told the Senate Judiciary Committee, 'I have been called a surrogate at a time or two in that campaign and I did not have communications with the Russians.' We now know that statement is false," Pelosi wrote.
Unnamed Justice Department officials told the Washington Post on Wednesday that Sessions spoke to Russian Ambassador to the US Sergey Kislyak twice last year, which would contradict statements Sessions made as US senator during Senate hearings for his confirmation to the Attorney General post.
During his Senate judiciary committee hearing in January, Sessions told Senator Al Franken (D-Minnesota) that he "did not have communications with the Russians" after being asked what he would do if he found there had been conversations between individuals in the Russian government and the Trump campaign relevant to the election.
"I'm not aware of any of those activities," Sessions said.
Sessions responded, "No," when asked by Senator Patrick Leahy (D-Vermont) if he'd had contact with anyone connected with the Russian government "about the 2016 election, either before or after election day?"
"He was asked during the hearing about communications between Russia and the Trump campaign — not about meetings he took as a senator and a member of the Armed Services Committee," Sessions spokeswoman Sarah Isgur Flores told the Washington Post.
The US intelligence community has assessed that Russia conducted cyber operations to benefit Trump and hurt Hillary Clinton during the 2016 presidential campaign.
Russia has denied accusations of meddling in the 2016 US election, and the Trump administration and campaign has done the same against allegations it had ties to Russia.
You can share this story on social media: