Pursuing Cold War against Russia is threat for Europe – Le Pen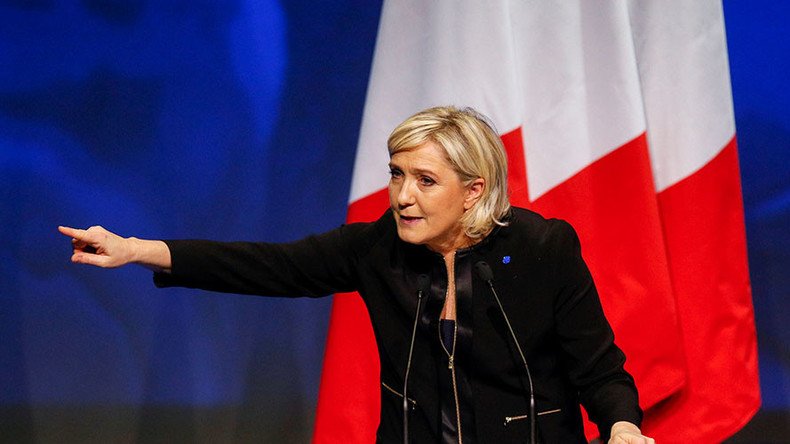 French presidential candidate Marine Le Pen has branded the claims that Russia poses a threat to Europe "a big scam." She believes that the real danger is "carrying out a Cold War against Russia and pushing Russia into China's arms," she said in a CBS interview.
During the interview, CBS host Anderson Cooper challenged Le Pen with questions such as, "You don't believe Russia's a threat for Europe?" while raising the familiar "Crimea invasion" argument against Moscow.
The right-wing French presidential candidate dismissed the "Russian threat" claims as a "big scam," saying she doesn't believe in it "at all."
"I'll tell you what the danger is for Europe. It's carrying out a Cold War against Russia and pushing Russia into China's arms. That's the threat to Europe," Le Pen emphasized.
Asked if she regards Russian President Vladimir Putin as "a threat," Le Pen was quick to deny the claim.
"No, I don't believe it is so. Nothing Vladimir Putin has done would make me reach that conclusion."
Le Pen went on to discuss growing globalization, which, according to her, "has become an ideology with no constraints," leading to "nations forcing themselves back into the debate."
"Nations with borders we control, with people that we listen to, with real economies, not Wall Street economies, but rather factories and farmers. And this goes against this unregulated globalization, wild, savage globalization," which has been "a catastrophe for most," Le Pen said.
A steady stream of migrants is part of this issue, she added.
"France's image has undeniably changed. There are a number of neighborhoods where you are no longer living a French life. That's undeniable."
However, this will stop if she becomes president, Le Pen said.
"France isn't burkinis on the beach. France is Brigitte Bardot. That's France. I'm opposed to wearing headscarves in public places. That's not France. There's something I just don't understand: the people who come to France, why would they want to change France, to live in France the same way they lived back home?"
Asked if she would agree with a motto like "Make France great again," mimicking Donald Trump's "Make America great again," Le Pen said: "Yes, of course. I've been saying that for many years. We are a great nation, which has lot to offer to the world, but to offer something to the world France has to remain France."
CBS host Cooper seemed to have his doubts about Le Pen's potential presidency, saying: "The polls say you can't win."
Le Pen quickly fired back by saying: "Yes. They also said that Brexit wasn't going to happen, that Donald Trump wasn't going to be elected, wasn't even going to be his party's nominee. Well, they're saying that less and less now. They are much more cautious."
The French presidential elections take place on April 23, with the run-off scheduled for May 7. In the latest polls, centrist candidate Emmanuel Macron is projected to beat Le Pen in the run-off, with 60 percent of the votes in his favor. However, National Front leader Le Pen is predicted to get 27 percent of the vote in the first round, while Macron is forecast to come in second with 24 percent.
You can share this story on social media: