Stampede injures 16 after hysteria erupts at NYC's Penn Station over false gunshot reports (VIDEOS)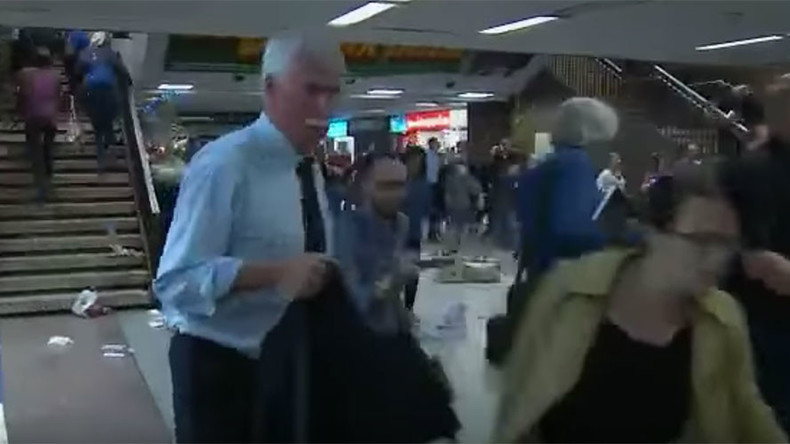 Massive crowds fled Penn Station Friday, resulting in a panicked stampede after Amtrak police used a Taser to subdue a suspect which terrified commuters mistook for a gunshot. Rumors of a shooter quickly spread, prompting the evacuation of Macy's across the street.
Commuters packed into Penn Station on Good Friday for the Easter holiday weekend rush when mass hysteria broke out.
After the chaos dissipated, the halls of Penn Station were littered with bags and other items left behind in the confusion.
Rumors of a shooter spread quickly, causing the Macy's across the street to evacuate.
The New York Fire Department (NYFD) said that 16 people were treated for "non life-threatening injuries" caused by the stampede.
At a press conference on Friday, Manhattan South Chief Bill Morris told WCBS, "Amtrak police had deployed a Taser," which he said was "the likely source of the sound and the ensuing 911 calls."
Morris described how police received "several dozen" reports of shots fired "from Penn Station and on 34th Street from Seventh Avenue to Broadway."
"All of those calls were determined to be unfounded," Morris said, adding that they were able to "quickly review all of the 911 calls and determine that there were no actual shots fired."
Morris said the area was determined to be safe by approximately 7:10pm.
The statements from the NYPD were later confirmed by the Mayor of New York City Bill De Blasio and the NYPD Counterterrorism Unit.
Amtrak and the Metropolitan Transportation Authority (MTA) also confirmed that Amtrak police deployed a Taser and two people had been placed into custody for "disobeying orders at Penn Station."
The incident followed a power outage that caused a New Jersey Transit train carrying around 1,200 passengers to become stuck under the Hudson River for several hours.
The disabled train finally arrived in Penn Station after three hours, where six passengers were treated by the FDNY for "non life-threatening injuries."
One of the passengers allegedly became belligerent, and Amtrak police were forced to Taser the man, causing the stampede, according to WNBC.
"We were about to start to wrap up our operations when we saw the ensuing panic begin to start on the platform," FDNY Deputy Fire Chief Tom Currao said at the news conference.
Steven H. Santoro, the executive director of NJ Transit, issued an apology shortly after the incident, asking
"To our customers who were significantly delayed today on Northeast Corridor train #3850, and other customers who were impacted by this incident, we deeply apologize for your experience, and I would like to hear from you."
You can share this story on social media: