At least 750 immigrants on prison hunger strike over $1 a-day-pay and conditions
Published time: 14 Apr, 2017 20:38
Edited time: 15 Apr, 2017 18:40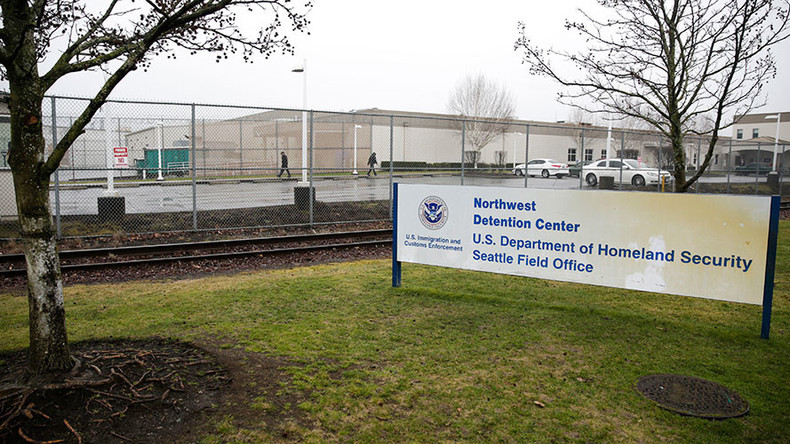 Hundreds of immigrants at the privately-run Northwest Detention Center in Tacoma, Washington, are on a hunger strike, demanding better food, hygiene, medical care and pay.
The hunger strike, now in its fifth day, began when 100 detainees refused to eat lunch. Female detainees joined the protest on Thursday with 750 detainees now refusing meals at the privately run 1,500-bed detention center, according to the Seattle Times.
There is no immediate sign of the hunger protest ending despite ongoing negotiations between detainees, Immigrations and Customers Enforcement (ICE), and the GEO Group, the prison contractor that operates the prison.
Organizers said detainees, who are awaiting immigration hearings or deportation, have launched work stoppages protesting being paid $1 a day, to cook, clean and do laundry.
The GEO Group has just secured a government contract to build a new 1,000-bed, $100 million detention center in Texas.
The company is already facing a class-action lawsuit which claims the company violates federal anti-slavery laws at its Aurora, Colorado prison, where it also pays detainees $1 a day.
"This is one of the largest detention centers in the West Coast and the nation. They make a lot of money out of encaging our families in there – $165, I believe, per day per person. And the jobs that people are getting paid to do inside for a dollar a day is not everything that they are doing inside," Maru Mora Villalpando, a spokeswoman for the NWDC Resistance, an anti-detention group run by detainees, told Democracy Now.
A handful of supporters have set up an encampment outside the gates of the detention center with plastic tarps and blankets.
Among the supporters was Alexis Erickson who told The Seattle Times, her husband, Cristian Lopez, was picked up ICE agents three months ago and deported to Mexico earlier this week. She claimed her husband had been mistreated while being held at the detention center.
ICE spokeswoman Virginia Kice said the agency would release specifics on the number of detainees who had refused food for 72 hours or nine meals in a row, which triggers a hunger-strike protocol and a medical response.
By Thursday, however, Kice said those numbers were not available as they were still trying to determine which detainees are participating in the strike, according to the Seattle Times.
"The situation is very fluid," she said. "Detainees who formally declare their intention to undertake a hunger strike will be transferred to a dedicated housing unit so they can be closely monitored to ensure their welfare."
Villalpando said Thursday that negotiations between the detainees, ICE and the GEO Group were not successful. She said they voted pod by pod for the most part to continue the strike.
The strike comes as Attorney General Jeff Sessions traveled to the US-Mexico border in Nogales, Arizona this week, where he met with US Customs and Border Protection agents and vowed a major crackdown, calling immigration "an attack on our national security." Under reforms he promises the additional of dozens immigration judges at detention centers at the border to help process the backlog of immigrant detention cases.