Iraq or Syria? Trump recalls dessert perfectly, forgets who he bombed & internet erupts (VIDEO)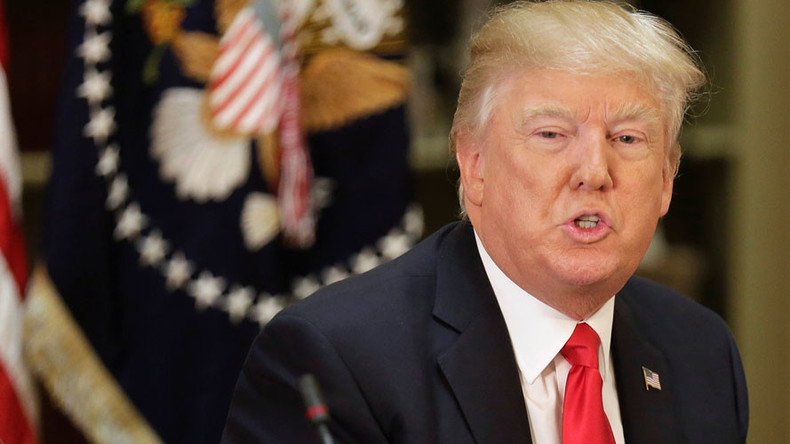 US President Donald Trump revealed he informed Chinese Premier Xi Jinping about the US air strike on a Syrian military base as the pair ate "the most beautiful" chocolate cake. He then mixed up Syria and Iraq – and the internet had a meltdown.
Trump was speaking with Fox Business about the bizarre exchange with Chinese leader during a summit at his Mar-a-Lago estate.
"We had finished dinner, we're now having dessert," Trump began. "And we had the most beautiful piece of chocolate cake that you've ever seen and President Xi was enjoying it."
READ MORE: Trump says he told Xi how he bombed Syria over 'most beautiful piece of cake'
"We've just fired 59 missiles, all of which hit by the way, unbelievable, from hundreds of miles away, it's brilliant, it's genius, what we have in terms of technology no-one can come close to competing," he continued.
"So I said, we've just launched 59 missiles, heading to Iraq," said the President, seemingly oblivious to his mistake.
"Heading to Syria," host Maria Bartiromo interjected. "Yes," Trump replied, "heading toward Syria."
Naturally, Twitter was set alight by the gaffe.
Disturbing that Trump remembers what he ate (chocolate cake) - but not where he sent missiles (Syria, not Iraq as he says until corrected) https://t.co/FItavMaNCA

— Chelsea Clinton (@ChelseaClinton) April 12, 2017
Many rushed to troll Trump over the embarrassing flub, branding it "disturbing."
We should be a hell of a lot more worried re what Trump says than what Spicer says. President Loco desn't know difference b/w Iraq & Syria! https://t.co/3fgoGDNtc0

— Ana Navarro (@ananavarro) April 12, 2017
What a missed opportunity when Bartiromo corrected Trump's "Iraq" with "Syria." What would have happened if she'd just asked "Iraq?"

— Daniel Dale (@ddale8) April 12, 2017
Overall, thought the Trump interview went well* ** ***.

*Missiles hit Syria not Iraq
**57 missiles hit not 59
***Cake was vanilla, probably

— Dave Brown (@dave_brown24) April 12, 2017
Trump: "We've just launched 59 missiles heading to Iraq."

Maria: "Headed to Syria."

Trump: *long pause* "Uh, yes heading toward Syria." https://t.co/wLnMseWFrB

— Laura Barrón-López (@lbarronlopez) April 12, 2017
Trump he can remember that they were eating a beautiful chocolate cake but can't remember that the missiles were sent to Syria and NOT Iraq. pic.twitter.com/U00hvhPhij

— RogelioGarcia Lawyer (@LawyerRogelio) April 12, 2017
You can share this story on social media: