Trump says he told Xi how he bombed Syria over 'most beautiful piece of cake'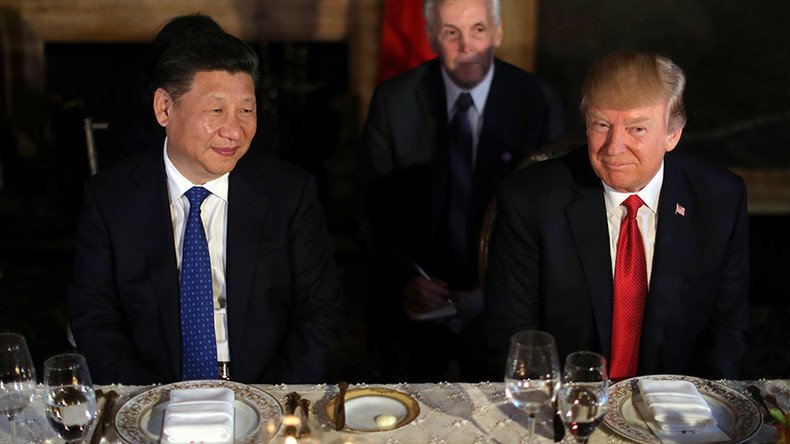 US President Donald Trump gave an intimate account of his state of mind as he ordered the launch of 59 Tomahawk missiles on Syria last week, and implied that China's leader Xi Jinping agreed with his decision.
"I was sitting at the table. We had finished dinner. We're now having dessert. And we had the most beautiful piece of chocolate cake that you've ever seen and President Xi was enjoying it," Trump told Fox Business Network's Maria Bartiromo, during an interview that aired on Wednesday morning.
"And I was given the message from the generals that the ships are locked and loaded, what do you do? And we made a determination to do it, so the missiles were on the way."
Trump says that he was faced with a dilemma – whether to inform Xi, who "was eating the cake, and was silent" of the attack.
"What does he do, finish his dessert and go home and then they say, you know, the guy you just had dinner with just attacked a country?" Trump mused, and then told his counterpart the news.
"He [Xi] paused for 10 seconds and then he asked the interpreter to please say it again. I didn't think that was a good sign," said Trump. "And he said to me, anybody that uses gases - you could almost say or anything else - but anybody that was so brutal and uses gases to do that young children and babies, it's OK."
Trump spoke of a "great feeling" between himself and Xi, who he "really likes being with," at least officially.
China issued no clear position on the US strike on April 7, merely calling for a peaceful resolution to the Syrian crisis. Xi has avoided commenting.
Trump also bragged about the effectiveness of the strike, which was a response to a chemical attack blamed on government forces two days earlier, saying that "all" of the missiles hit their target, the Shayrat airbase. Syrian media said seven staff and nine civilians were killed in the strike.
"It's so incredible. It's brilliant. It's genius. Our technology, our equipment, is better than anybody by a factor of five. I mean look, we have, in terms of technology, nobody can even come close to competing," said Trump.
Russia, an ally of Syria, earlier claimed that only 23 Tomahawks struck their targets. Moscow also condemned the assault, arguing that no solid evidence was provided that Syrian forces were indeed responsible for launching the chemical attack, or that one had even taken place.
You can share this story on social media: