Marines United nude photos move to dark web amid ongoing military scandal – report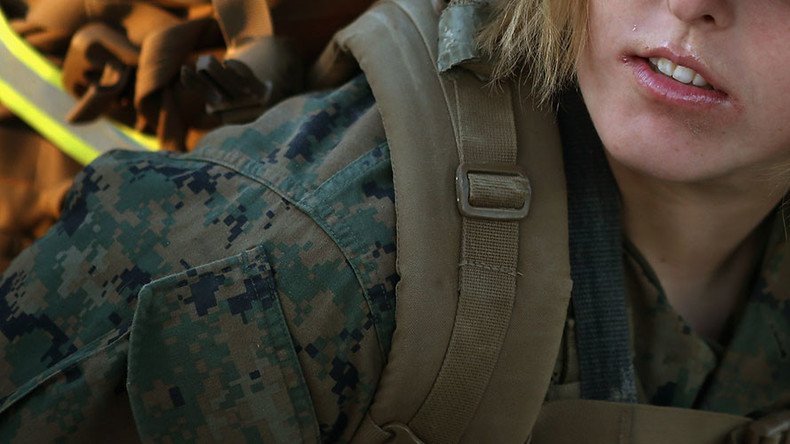 Photos of nude women including US service members, which first emerging on a Facebook page of a group by the name of Marines United, are now being sold on the dark web, according to a Daily Beast investigation.
The Daily Beast has discovered three more Facebook groups spawned from the original, adding to the handful created following the revelation of the original Marines United group last month.
Two new private shared drives have also been discovered, along with groups selling Marines United t-shirts and challenge coins, with people posting links or attempting to sell the images on the dark web.
One private group by the name of Marines United 214 responds to requests for nude photos by demanding payment with links to the dark web market AlphaBay, where the photos are also listed for sale.
However, the Daily Beast noted that, while the original Marines United group was made up of active duty and veteran military, some of the more recent groups are not connected to the US military at all. Instead, they are being run by citizens of other countries aiming to profit from the images.
The existence of the original Marines United group was revealed in March, when members were caught sharing thousands of photos of naked women without their consent. Images of female marines were shared – both nude and clothed – along with pictures of marine wives, girlfriends, ex-wives, and ex-girlfriends. Some of the women were identified by their full names, ranks, location, and duty station.
At its peak in February, nearly 30,000 active-duty and reserve marines and US navy corpsman, as well as veterans and British Royal Marines, belonged to the group.
A criminal investigation is currently underway focusing on an estimated 500 members of the group who shared the images or directed slurs – including rape and death threats – at some of the women.
READ MORE: 'That's not who we are': Senators grill commandant over #MarinesUnited naked photos scandal
However, even as the investigation continues, the images have simply moved elsewhere, with the Daily Beast reporting that it has discovered multiple distribution channels on sites including Facebook, Twitter, Snapchat, Tumblr, Instagram, Reddit, Pornhub, and Anon-IB, as well as on the dark web.
However, it is unlikely that the photos' newest distributors will be easy to uncover due to the dark web's anonymity and the sheer difficulty of accessing it.
For example, AlphaBay is not accessible through normal search methods because it is not indexed by Google or other common web-browsing software. Instead, a person must know the actual web address to access it. Users also use a TOR browser – an open-source encrypted web browser free of tracking software – to avoid detection.
'Actionable Change'
Meanwhile, hundreds of female marines and marine veterans have launched their own Facebook group called 'Actionable Change' to combat misogyny in the Corps.
"In a culture that prizes masculinity, it is easy to mistake barbarism for strength. Brutality for power. Savagery for ferocity," the group wrote in a letter shared with the service.
"Yet we respectfully disagree with the notion that to fight and win our nation's battles, we must preserve an institution where men are permitted or even expected to behave like animals, and women trespass at their peril," the letter continues.
It goes on to state that "this is not really about Marines United," calling it a mere "catalyst."
The group wants the percentage of women in the Marine Corps to increase from about seven percent to 20. It also hopes to improve gender integration in the military, make 'revenge porn' in the military illegal, and address existing problems with training that will include firsthand stories from female Marines, the Washington Post reported on Tuesday.
Men are currently not allowed in the group, but will eventually be able to join when it is more established, Lieutenant Colonel Ann Bernard, a marine reservist who established Actionable Change, told the Post.
You can share this story on social media: