Thieves ram stolen truck into Florida gun shop to steal guns and ammo in daring heist (VIDEO)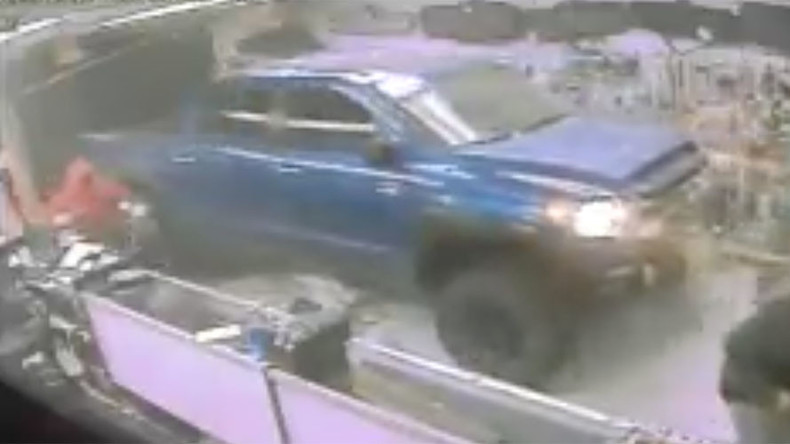 Police in central Florida are looking for a group of thieves who took just 31 seconds to ram a pickup truck through a gun shop to steal guns and ammunition.
The Zephyrhills Police Department released surveillance footage of the robbery at Sunshine State Armory, in which a Toyota pickup can be seen slamming through the store's front window. As the driver backs out, three men wearing hoodies and masks dash in. They load up on guns and ammo. One man runs out with an armful of long guns.
Zephyrhills police are trying to see if this case is tied to similar crimes across the Tampa Bay area.
"We don't know that. Certainly does seem to fit the M.O. to several of those," said Capt. Derek Brewer, according WCMH TV.
There was a smash and grab in Inverness, and another one in Tampa, and yet another heist in Lakeland.
"You can tighten security on anything, but somebody wants to get in, they'll get in," Ed Hinchey, who works next door, told WTAE.
At least four people are on the loose and police are asking for the public's help to solve "the armed burglary," which took place just after 2:00am Sunday morning.
The three suspects stole an "unknown amount of firearms and ammunition," before fleeing the scene, the department said.
Following the robbery, the truck was abandoned along a railroad track a mile away from the store in a wooded area and set on fire.
Police are offering a $2,500 reward for any information that leads to arrests in the case.