'First human videobombed by fireball': Shooting meteor filmed over California (VIDEOS)
A shooting meteor flashed across the night sky in California, Monday, dazzling onlookers and even managing to videobomb one astonished woman.
The luminous fireball, described by a number of eyewitnesses as "green", streaked over San Diego, California at around 9pm local time, according to the American Meteor Society (AMS).
The group received reports of more than 260 event sightings, primarily from San Diego but also from Los Angeles, Arizona, Nevada and New Mexico.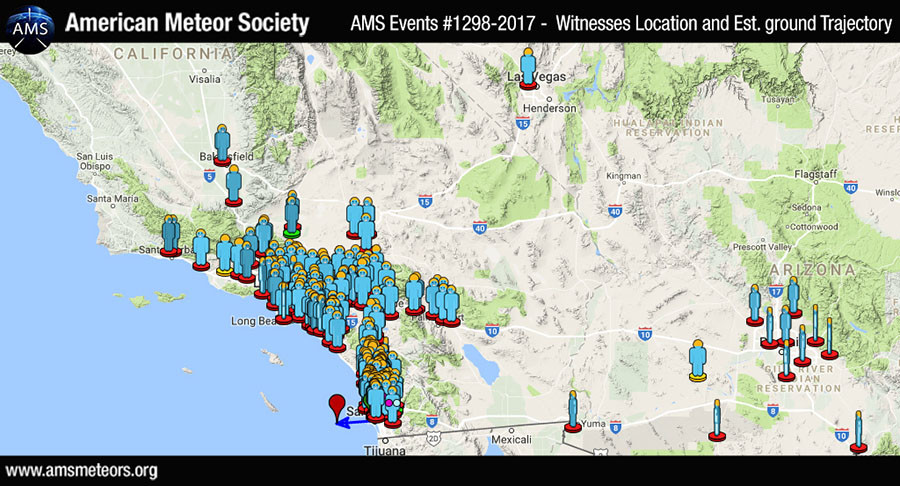 One particularly striking piece of footage was captured by Faye Heddings who was filming her friend Dale Demi when the meteor blasted by. Demi is speaking to the camera when the fireball zooms by behind her, leaving her shocked and repeatedly asking viewers, "did you guys see that?"
She later said on social media that she thought the blazing meteor was "coming" for her.
The AMS suggested that Demi may even have earned the distinction of becoming the "first human videobombed by a fireball."
READ MORE: Meteor shoots across Texas skies, rattles homes & sparks fears of explosion (VIDEO)
Only seven witnesses so far heard either a concurrent or a delayed sound, according to the AMS. Demi said that, while the meteor seemed very close, she heard nothing from it.
The meteor triggered reports of an airplane crash in Hesperia, California, but no wreckage was reported, ABC7 said.
Several social media users reported catching a glimpse of the spectacular shooting meteor while others shared footage of the celestial event.
You can share this story on social media: