Ivanka encouraged Syria strike? Eric Trump hints this may be the case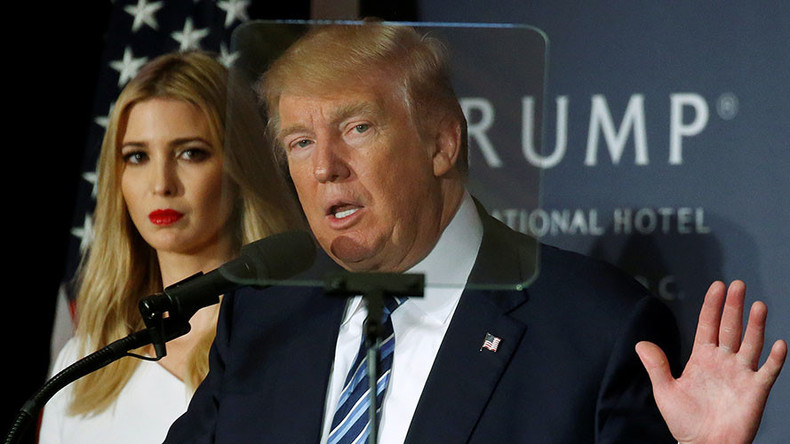 Ivanka Trump may have encouraged her father to launch missile strikes against Syria, which Washington says came in response to a chemical weapons attack at a rebel-held town in the province of Idlib, Donald Trump's son, Eric, hinted.
"Ivanka is a mother of three kids and she has influence. I'm sure she said: 'Listen, this is horrible stuff,'" Eric Trump told the Telegraph.
He said that his father "will act in times like that."
"And by the way, he was anti doing anything with Syria two years ago," he added. "Then a leader gasses their own people, women and children. At some point America is the global leader and the world's superpower has to come forward and act and they did with a lot of support of our allies and I think that's a great thing."
Heartbroken and outraged by the images coming out of Syria following the atrocious chemical attack yesterday.

— Ivanka Trump (@IvankaTrump) April 5, 2017
On April 7, the US fired at least 59 Tomahawk cruise missiles at the Shayrat Airbase controlled by the Syrian Army. According to Syrian officials, the strike killed at least six people, including civilians, and wounded several others. Washington claimed the strike was in response to an alleged chemical attack in Syria's Idlib, for which the US blamed the Syrian government.
READ MORE: Dozens reported killed in alleged gas attack in Syria, military denies involvement (PHOTOS)
Ivanka Trump, who took on an unpaid position as Assistant to the President in March, took to Twitter to condemn the chemical attack, saying that she was "heartbroken and outraged."
READ MORE: Ivanka Trump named 'Assistant to the President' in official White House role
She then praised Trump's decision to perform airstrikes against Syria. "Proud of my father for refusing to accept these horrendous crimes against humanity," she tweeted.
The times we are living in call for difficult decisions - Proud of my father for refusing to accept these horrendous crimes against humanity https://t.co/yV0oJuC9dE

— Ivanka Trump (@IvankaTrump) April 7, 2017
Syrian President Bashar Assad called the US strike "reckless," "irresponsible" and "shortsighted," claiming the motives for the attack weren't based on facts.
The Syrian Army called the strike "blatant aggression," saying that it makes the US a partner of Islamic State (IS, formerly ISIS/ISIL) and other terrorist organizations.
Russia also condemned the strike, saying it is suspending the memorandum of understanding on flight safety in Syria with the US. The Memorandum on air safety signed in October 2015 was designed to prevent possible mishaps between Russian and US forces operating independently in the region.