Democrat leader Pelosi calls for House debate on Trump's Syria strike
Published time: 9 Apr, 2017 05:17
Edited time: 9 Apr, 2017 08:12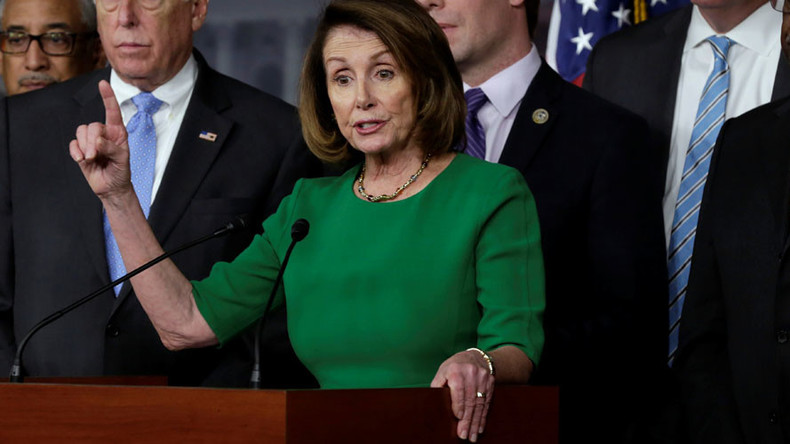 House Minority Leader Nancy Pelosi has called for a House debate on President Donald Trump's missile strike against Syria, saying Congress has a constitutional responsibility to discuss the authorization of military force against a sovereign nation.
READ MORE: Shadow Brokers hackers release NSA hacking tools to punish Trump for 'abandoning' his base
The House is meant to be starting a two-week recess, but Pelosi wrote to House Speaker Paul Ryan to request a debate.
"The President's action and any response demands that we immediately do our duty," Pelosi wrote. "Congress must live up to its Constitutional responsibility to debate an Authorization of the Use of Military Force against a sovereign nation."
"The American people are owed a comprehensive strategy with clear objectives to keep our brave men and women in uniform safe and avoid collateral damage to innocent civilians in Syria," Pelosi wrote.
An Authorization for Use of Military Force (AUMF) was passed in 2001 and 2002 following the 9/11 terrorist attacks, which authorized the US government to go to war with those who contributed to the attacks and their affiliates.
This AUMF has been used as authorization for the US to go after affiliates of Al-Qaeda for more than 15 years. Many, including Pelosi, argue it is time for a new AUMF, which would authorize the US to fight Islamic State (IS, ISIS/ISIL).
New House and Senate bills would "specifically authorize our troops to fight against ISIS by naming them in the resolution," according to a press release by Indiana Congressman Jim Banks, who introduced the bill in March.
Paul Ryan has released a statement in which he called the airstrikes "appropriate and just," but encouraged Trump to seek permission from Congress for further attacks.
"I look forward to the administration further engaging Congress in this effort," he said.
Ryan's office said that there were no changes to the House schedule, but spokesperson AshLee Strong said Trump's action was "fully within the president's authority," and that "It is now appropriate for the administration to consult with Congress as it considers next steps to resolve the long-running crisis in Syria."
Pelosi voiced her support for Trump's strike against the Syrian government on Thursday, calling it a "proportional response to the regime's use of chemical weapons."
While Trump blamed Syrian President Bashar Assad for Tuesday's chemical incident in rebel-occupied area of Idlib province, there has been no investigation launched, nor evidence presented except for reports from opposition militants and pro-opposition journalists and groups such as the controversial White Helmets that have alleged "sarin" gas has been used in the attack.
The Russian Defense Ministry said that at the time of the alleged chemical attack, Syrian jets were bombing a rebel ammunition warehouse, which is said to have contained chemicals. Shells with chemical payloads have been used in jihadist attacks on Syrian Army and Kurdish forces, as well as in Iraq, and such instances have been documented, including in an August UN report.