'They're terrified that peace was going to break out' – Ron Paul on US Syria strike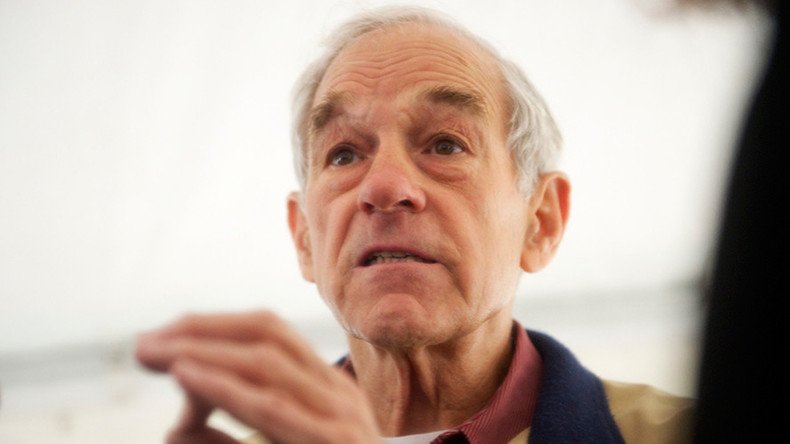 "A victory of neo-conservatives" – that's how Ron Paul, a former member of the US House of Representatives and three-time presidential candidate, described the US strike on Syria, adding that he does not expect peace talks to resume any time soon.
Follow RT's LIVE UPDATES on the US strikes on Syria
Speaking to RT, Ron Paul said that there is no proof of Damascus' guilt that could trigger such a rash and violent response from the US.
"I don't think the evidence is there, at least it hasn't been presented, and they need a so-called excuse, they worked real hard, our government and their coalition."
This is not the first time something like this has happened in Syria or elsewhere, Paul said, but now it is convenient to pay attention and react immediately.
"If any of this was true, I don't know why they couldn't wait and take a look at it. In 2013, there were similar stories that didn't go anywhere, because with a little bit of a pause, there was a resistance to it built in our Congress and in the American people. They thought that it was a fraud and nothing like that was happening, and right now, I just can't think of how it could conceivably be what they claim, because it's helping ISIS, because it's helping Al-Qaeda."
"From my point of view, there was no need to rush. There was no threat to national security. They have to give a reason to do these things," Paul added.
A factor that contributed to the speedy reaction was of course the US president, the politician told RT.
"I have no idea what his purpose was. Maybe he just didn't want to hear the debate, because the last time they debated it, they lost. And this time, it was necessary for them to jump onto this, before people came to know what was really going on."
READ MORE: Syria & Iraq: Anatomy of a 21st century conflict
The Syrian situation now is "a victory for neo-conservatives, who've been looking for Assad to go," Paul said.
"They want to get rid of him, and you have to look for who is involved in that. Unfortunately, they are the ones who are winning out on this, and the radicals, too! There is a bit of hypocrisy going on here, because at one minute we say, well, maybe Assad has to stay, the next day he has to go, and we're there fighting ISIS and Al-Qaeda. At the same time, what we end up doing is we actually strengthen them! It is a mess.
"I don't believe that our people or the American government should be the policemen of the world, it makes no sense, it causes us more trouble and more grief, it causes us more financial problems, and it's hardly a way that we could defend our constitutional liberty."
This policy clearly does not lead to peace, Paul told RT.
"The peace talks have ended now. They're terrified that peace was going to break out! Al-Qaeda was on the run, peace talks were happening, and all of a sudden, they had to change, and this changes things dramatically! I don't expect peace talks anytime soon or in the distant future."
Last but not least, the politician spoke out about the deeper reasons – and potential disastrous consequences – of the latest attack's timing.
"I was wondering about the fact that the announcement came when Trump was talking to Xi [Jinping, the Chinese president]. And of course, [North] Korea's high on the list of targets for our president and our administration. It might be a warning: this is what's going to happen to you if you don't do what we tell you. I just don't like us being involved in so many countries, in their internal affairs; I think it's so detrimental."
You can share this story on social media: