MSNBC's Brian Williams reviled online for describing cruise missile strike as 'beautiful'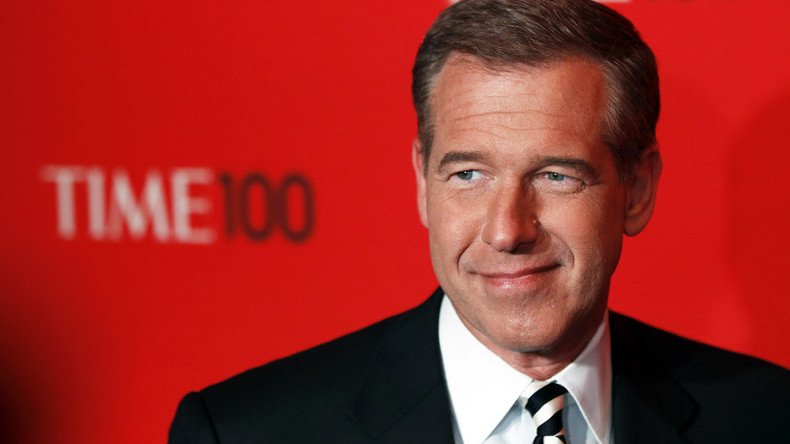 MSNBC news anchor Brian Williams turned stomachs after he described images of US airstrikes on Syria as "beautiful" a number of times in a newscast Thursday night.
Williams' joy at the sight of warfare has angered many online. The news anchor described the airstrikes which killed at least six people as "beautiful in the night's sky."
Williams was so enraptured by the sight of weapons that he was inspired to loosely quote Leonard Cohen's First We Take Manhattan.
"We see these beautiful pictures at night from the decks of these two U.S. Navy vessels in the eastern Mediterranean. I am tempted to quote the great Leonard Cohen," he said. "I'm guided by the beauty of our weapons."
"They are beautiful pictures of fearsome armaments making what is for them a brief flight over this airfield. What did they hit?" Williams asked.
In 2015, Williams was exposed as having lied about his own war exploits, which could explain his off-color remarks.
Williams said he was in a helicopter in Iraq that was shot with a Rocket Propelled Grenade (RPG) and AK-47 fire. A soldier who was actually in the helicopter later revealed Williams wasn't in the helicopter which was under fire. Williams was forced to admit his "mistake."
Despite the disgust with which many reacted to his celebration of destruction, Williams' sentiments were echoed by many in Washington and among the establishment media.
Williams works for MSNBC, part of NBCUniversal which is owned by Comcast. MSNBC fired its host Phil Donahue in 2003 seemingly because he wasn't supportive of the Iraq war.
A leaked internal memo explained why he would be a "difficult public face for NBC in a time of war…. He seems to delight in presenting guests who are anti-war, anti-Bush and skeptical of the administration's motives."
You can share this story on social media: