US rep shocks CNN anchor by questioning Syria gas attack narrative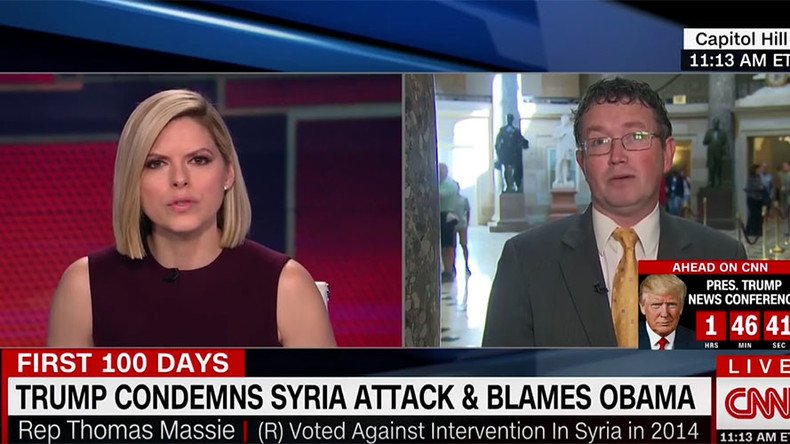 CNN anchor Kate Bolduan was flabbergasted after Representative Thomas Massie (R-Kentucky) questioned a recent chemical gas attack in Syria, then said it wouldn't be in President Bashar Assad's interest to conduct such a strike on his own people.
Bolduan interviewed Massie, a tea party darling and member of the House Freedom Caucus, about the US response to the reported chlorine gas attack on civilians in Syria that killed more than 80 people, including children. Massie voted against an American intervention in Syria in 2014.
"You see the images coming out of Syria and you think the best policy for the United States right now is to do nothing?" Bolduan asks towards the end of the 7.5-minute interview.
Massie cautions that American intervention might make the situation on the ground worse, then notes that "the first casualty of war is the truth."
"It's hard to know exactly what's happening in Syria right now," he continued. "I'd like to know specifically how that release of chemical gas, if it did occur ‒ and it looks like it did ‒ how that occurred. Because frankly I don't think Assad would have done that. It does not serve his interest, it would tend to draw us into that civil war even further."
Bolduan can't contain herself from interrupting, her expression shocked, to haltingly ask who Massie thinks is behind the attack.
"Supposedly the airstrike was on an ammo dump, and so I don't know if it was released because there was gas stored in the ammo dump or not," he replied. "That's plausible; I'm not saying that's what I think happened…"
Baffled, Bolduan interrupts again to tie Massie to Assad and the Syrian president's Russian backers.
"You're more inclined to believe the position of what Bashar Al-Assad is saying and what the Russians are saying right now than more inclined to agree with, believe what your even your colleagues here in the United States believe is true, that this is Assad and what human rights observers over there say is Assad?" she asks incredulously.
"I don't think it would have served Assad's purposes to do a chemical attack on his people. So, you know, it's hard for me to understand why he would do that if he did," Massie replied.
Still stunned, Bolduan ends the interview.
Massie is most known for his repeated attempts to abolish the US Department of Education, as well as his pronouncement in mid-March that he would change his vote on the much-maligned American Health Care Act from "no" to "hell no."
You can share this story on social media: