Taser rebranding offers free bodycams for US police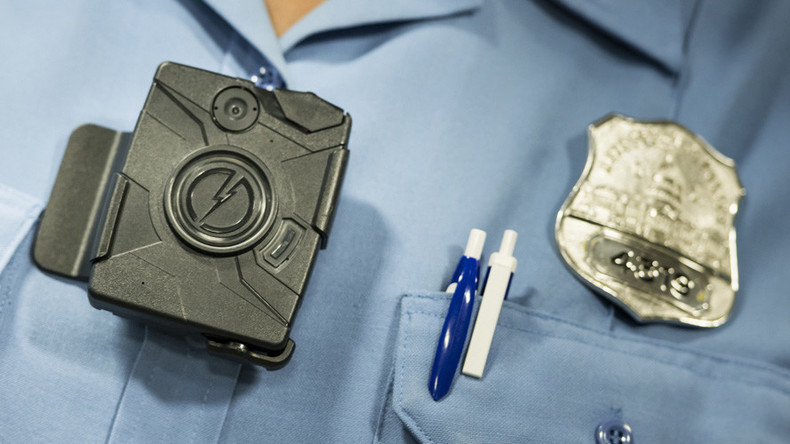 The stun-gun makers, Taser, now rebranded as Axon, are offering free body cameras and data storage for one year to police departments nationwide. The announcement comes a day after voters in Ferguson, Missouri amended the city's charter to require police to wear body cameras.
Under the program, police officers would be equipped with a body camera, and given unlimited access to the company's cloud storage service in a one-year free trial, Taser International, now rebranded as Axon, announced on Wednesday, according to Bloomberg.
The company is also offering camera mounts, docking stations for charging and uploading footage, and access to the online training library.
The re-branded offer comes as the company is shifting its focus from its Taser stun guns, which deliver an electric shock when applied. While most of its revenue still comes from the stun guns, its expansion into sensors and body cameras nearly doubled revenue last year. The company is also the owner of the technology that backs up them up on cloud servers, Examine.com, where revenue also doubled last year.
The idea also grew out of loss when last fall the New York Police Department chose to purchase their body cameras for a pilot program from Taser/Axon's competitor, Vievu LLC, to supply its first 5,000 cameras.
Following a series of brutal and often deadly police encounters by the public, sometimes captured on cellphones or streamed live on social media, a national call was issued for officers to start wearing body cameras.
In Ferguson, Missouri, voters approved a city charter amendment on Tuesday which would require police officers to wear body cameras while on patrol. A police officer shot Michael Brown, 18, following a report that he had committed a robbery.
The incident led to weeks of protests, an investigation by the Justice Department, and a critical report of police practices and policies that found rampant discrimination and corruption.
About two-thirds of police say they favor the use of body cameras, and 82 percent of police chiefs and other administrations stating they want them, according to Pew Research Center.
READ MORE: Minnesota proposal would keep body camera footage private
But according to the latest research by the National Institute of Justice, based on 2013 data, only about a quarter of local police department currently use body cameras.
There are also still problems with using the new technology over how a victim of police brutality obtains the video footage, and police have been known to turn the devices off in encounters.
A 2016 survey though suggests than most are planning to integrate the technology in the near future – two to five years, depending on budgets.
Axon has sold body cameras to law enforcement agencies in 35 cities, but at $399 each, they are not cheap. Data storage only increases the costs.
READ MORE: Baltimore mayor wants to stop body camera bill
For smaller police departments, just storing video footage securely is hard enough. Video takes up massive amount of space, and the cost of buying servers add up. Axon offers department cloud storage which costs between $20 to 80 per officer each per month. But police reform advocates argue the cost is worth it if it aids in policy transparency.
"There's the promise that this other perspective exists," Nancy La Vigne, director of the Urban Institute's Justice Policy Center, told City Lab. "One that is certainly more objective than what you would hear from officer or a member of the public."