Russia, Iran bear 'moral responsibility' for Syria chemical attack – US State Dept.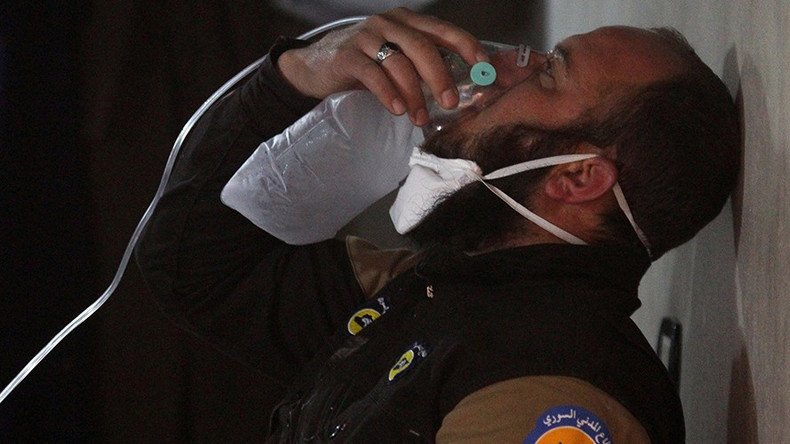 Condemning the chemical weapons attack in Idlib province, US Secretary of State Rex Tillerson accused the Syrian government of "barbarism" and said Russia and Iran also bear moral responsibility for the deaths.
In a statement of Tuesday afternoon, Tillerson pointed the finger at Damascus, saying that "it is clear that this is how Bashar Assad operates: with brutal, unabashed barbarism."
"Anyone who uses chemical weapons to attack his own people shows a fundamental disregard for human decency and must be held accountable," Tillerson said.
NEW: Sec. Tillerson on Syria chemical weapons attack: "Clear that this is how Bashar al-Assad operates: with brutal, unabashed barbarism." pic.twitter.com/BzpqPyBdBo

— Dan Linden (@DanLinden) April 4, 2017
He called on Russia and Iran to exercise their influence over Damascus "to guarantee that this sort of horrific attack never happens again," and said that they "also bear great moral responsibility" for the deaths, as self-proclaimed guarantors of the Syrian ceasefire.
The attack on the town of Khan Sheikhoun reportedly killed 58 people, including 11 children under the age of eight, according to the UK-based Syrian Observatory for Human Rights and the US/UK-sponsored 'White Helmets' rescue group.
White House press secretary Sean Spicer called the attack "reprehensible" and that it "cannot be ignored by the civilized world."
Spicer also blamed former administration under President Barack Obama for its "weakness and irresolution."
"President Obama said in 2012 that he would establish a quote-unquote 'red line' against the use of chemical weapons and then did nothing," Spicer said.
READ MORE: Dozens reported killed in alleged gas attack in Syria, military denies involvement (PHOTOS)
Syrian opposition member and former spokesperson of the Syrian National Council Bassma Kodmani called the chemical attack a "direct consequence" of US statements on Syrian President Bashar Assad, Reuters reported.
The Syrian army has denied allegations that it was behind the attack.
"We deny completely the use of any chemical or toxic material in Khan Sheikhoun town today and the army has not used nor will use in any place or time, neither in past or in future," the army said in a statement quoted by Reuters.
The Russian air force did not conduct any airstrikes in the Idlib Governorate.
"Based on the reports it might be that the Syrian Army targeted a place that was used as a chemical weapons factory or that stocked chemicals by the rebels," Jamal Wakeem, a professor of history and international relations at the Lebanese University in Beirut, told RT.
"You'd have to ask what Assad​'s motivation would be to do this & attract world-wide condemnation" security analyst Charles Shoebridge. pic.twitter.com/kuQpicpfgW

— RT UK (@RTUKnews) April 4, 2017
Wakeem said he doesn't believe the Syrian Army would be so "desperate" as to use chemical weapons, given the fact that it has been "achieving major success on various fronts."
He went on to state that although rebels have previously accused the Syrian government and Russian military of using chemical weapons, that news "turned out to be false," noting that there was instead evidence that rebels had used chemical weapons in Syria and Iraq.
Rebels and Western governments have repeatedly accused Damascus of using chemical weapons since the beginning of the conflict in 2011. In 2012, the Obama administration said it would launch a military intervention if Assad crossed the "red line" and used gas against the rebels. Russia defused the situation by convincing Damascus to join the Chemical Weapons Convention and destroying its arsenal by 2013.
You can share this story on social media: