New Jersey teenager admits plan to assassinate Pope Francis, set off bombs
Published time: 4 Apr, 2017 16:50
Edited time: 5 Apr, 2017 10:10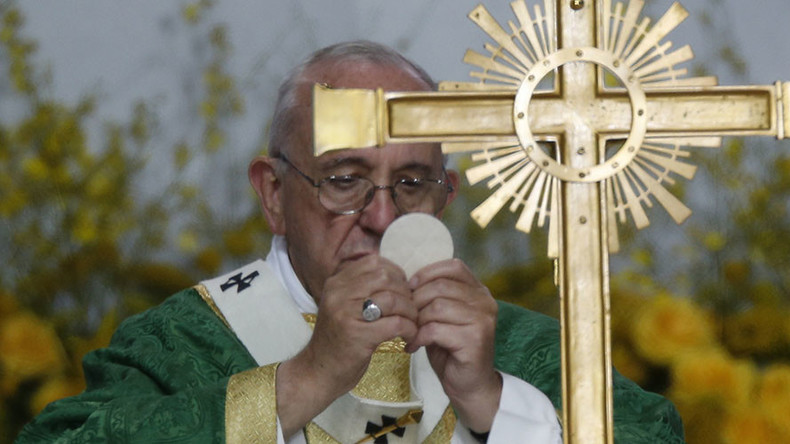 A New Jersey teenager allegedly inspired by Islamic State has pleaded guilty in a plot to kill Pope Francis and set off explosives. The teen had allegedly tried to conspire with a sniper who was actually an FBI undercover employee, according to prosecutors. Santos Colon admitted in federal court on Monday to plotting to kill Pope Francis during the pontiff's 2015 US visit.
The 17-year-old, also known as Ahmad Shakoor, tried to recruit a person he thought was a sniper to join him in his plot, which involved shooting the pope during his mass in Philadelphia, and setting off explosive devices in the surrounding areas, according to a statement from acting US Attorney William Fitzgerald.
Colon admitted that from June 30, 2015 to August 14, 2015, he devised a plan to conduct an attack. The teen unknowingly engaged an undercover FBI employee, and went as far as scoping out possible targets with the informant, instructing him where to purchase materials to make explosive devices.
The pope visited Philadelphia on September 26 and 27, 2015 to hold a public mass, attracting hundreds of thousands of people during his biggest event in the United States.
Documents filed in the US District Court show Colon was initially charged under seal as a juvenile in August 2015. His case was transferred for prosecution as an adult as part of his plea deal with the US Attorney's Office.
"The minor was inspired by [Islamic State/IS, formerly ISIS/ISIL] and sought to conduct a detailed homeland attack which included multiple attackers, firearms, and multiple explosives, targeting a foreign dignitary at a high-profile event," according to a joint intelligence bulletin by the FBI and Department of Homeland Security, ABC News cited in 2015.
Colon was charged with one count of attempting to provide material support to terrorists.
At the time of the arrest sources familiar with the case emphasized that any threat from the teen was not imminent, and that his plans were "aspirational,"according to ABC News. The sources said there were questions about the boy's mental health.
Under the terms of the plea deal, prosecutors have agreed not to pursue further charges against him for attempting to provide support to IS and attempting to obtain a weapon of mass destruction.
Colon faces a maximum of 15 years in prison and a fine of $250,000.
He is next scheduled to appear for a status conference on May 5.